Some of Personal Realty Adviser's Snowbird clients ask about renting their vacation homes when not in use to help generate extra income. If you're contemplating renting out your vacation home when you're not using it, you might be asking yourself if you need to hire a property manager. Remember that Vacation Home property managers are different from those hired to manage annual rentals.
"A vacation home property manager not only maintains and oversees the property, but they are also masters at marketing the home to provide what vacationers want and need," said Robert Coscia, Broker and Owner of Personal Realty Advisers.
What Services Do Vacation Home Property Managers Usually Perform?
Vacation home property managers provide the services that help homeowners maximize the value of their vacation rental properties while minimizing the hassle and stress of managing them on their own. These services may vary depending on the specific needs of the homeowner and the property itself but generally include the following:
1. Marketing Part 1 / Assessing & Targeting: Good property managers know the local vacation rental market. Different markets and audiences have different vacation desires, and your property manager will help you create a vacation home experience that matches the expectation and desires of your clientele.
"Think '5-Star,'" said Coscia. "When vacationers are looking for a home to rent, they are looking for 'WOW': comfort, serenity or excitement, well-maintained, extra niceties and bonuses… A good vacation home property manager knows how to provide all these things and market them successfully to the right audience."
2. Marketing Part 2 / Promoting: To help maximize exposure and bookings for your vacation home, property managers will typically get professional photographs taken and then create and manage listings on various vacation rental websites, such as Airbnb, VRBO or Vacasa.
Vacation homes also can be marketed to audiences beyond vacationers, such as travel nurses, traveling professionals, or even those displaced from their homes due to renovations or damage. After you and your property manager determine your target market, you can explore these options further.
3. Guest Screening and Reservations: Property managers may handle the booking process, including screening potential guests, responding to inquiries, and managing reservations and cancellations.
4. Housekeeping and Maintenance: Property managers may coordinate regular cleaning, maintenance and repairs, ensuring the property is well maintained and ready for new guests. This involves managing and paying vendors.
This is no light task when you take into consideration all that goes into keeping a home guest-ready. Think handymen, painters, carpet cleaners, HVAC specialists, electricians, plumbers, roofers, locksmith, appliance repairs/replacement, landscapers, pest control, pool care, furniture delivery, etc. Down to the very small tasks, such as making sure there are batteries in the smoke detectors and that the lightbulbs all work.
"When a vacation home is properly prepared, the guests' rental experience feels like magic," said Coscia. "That's how you get repeat renters and great reviews, which is what property owners hope to achieve by working with a good property manager."
It's also important to note that we live in Florida, and hurricane warnings are a part of life. Therefore, having someone local, like a property manager, secure storm shutters and bring in your patio furniture is extremely important.
6. Check-In and Check-Out: Property managers may be responsible for greeting guests upon arrival, checking them in, and conducting a thorough inspection of the property before and after their stay to address any damages that may have occurred. This is a very important role because your vacation home is an investment and one that must be cared for properly.
There could also be regular home wear-and-tear issues not caused by the renters that need to be taken care of, such as water leaks, pest damage, painting, AC maintenance, and others. Staying on top of larger repair and maintenance issues is important.
7. Guest Support and Communication: Property managers may be the primary point of contact for guests throughout their stay, handling any questions, concerns, or issues that may arise. This can be time-consuming in certain situations, and this may not be something you want to devote your time to doing from afar.
8. Accounting and Financial Management: Property managers may handle all financial aspects of the vacation rental, including collecting payments and security deposits, managing expenses, and providing regular accounting reports to the homeowner.
How Much Do Vacation Home Property Managers Typically Charge?
Fees can be structured differently depending on the property management firm. There are three common management fee structures:
Fixed-Rate Model: The property owner pays the property manager a monthly flat fee. The fee remains the same regardless of income generated from bookings.
Guaranteed Income Model: The property manager keeps the proceeds from the booking and pays the homeowner a fixed monthly fee, regardless of how many bookings the property has.
Commission Model: This is perhaps the most common model. It works on a percentage-based commission that the homeowner pays to the property manager monthly based on the revenue generated from bookings.
All three structures have their pros and cons, and fees range widely even within each structure based on property type, location and other factors. Fees can range anywhere from 10 to 50% of monthly rental income, depending on the range of services rendered.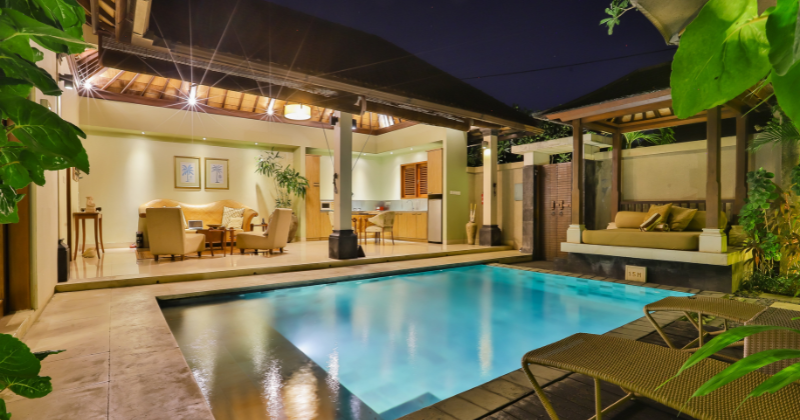 Maintaining a 5-Star Vacation Rental Property
Having a 5-Star vacation rental property requires attention to detail and a focus on providing an exceptional experience for your guests.
"Creating a 5-Star vacation rental experience doesn't happen easily," said Coscia, "but the right vacation rental property manager knows how to assess your home and suggest the needed small modifications to make it spectacular for vacationing guests."
Here are some tips to help you achieve a 5-Star rating for your vacation home rental that guests will love and return to year after year.
Know Your Audience: Know your community's short-term rental market and consider your desired clientele: retirees, pet-owners, traveling workers, etc. How you prepare and decorate your home and how you market your property will depend on the vacation audience you want to reach.
Provide Comfortable Furnishings: Invest in comfortable furnishings, including high-quality mattresses, pillows and seating. Make sure there's ample storage for your guests' belongings.
Offer Thoughtful Amenities: Go above and beyond to provide thoughtful amenities for your guests, such as extra paper goods; toiletries; plush towels; a personal security safe; easy-to-use TV, video and music equipment; and a well-stocked kitchen.
Add Personal Touches: Add personal touches to your vacation rental to make your guests feel at home. This could be something as simple as fresh flowers or a welcome basket with local treats.
Provide Clear Instructions and Guidelines: Be sure to provide clear instructions and guidelines for your guests, including check-in and check-out procedures, house rules, and local recommendations. Consider compiling resources in an attractive, easy-to-use reference book/binder.
Be Responsive and Available: Be available to your guests whenever they need you, whether it's to answer a question, address a problem, or offer suggestions for things to do in the area.
Cleanliness is Key: Make sure your vacation rental is spotlessly clean before each guest's arrival. Pay attention to details like clean linens, towels and surfaces.
Request Reviews and Respond to Guest Feedback: Request reviews and feedback from your guests, and be sure to respond to any concerns or suggestions promptly. Use guest feedback to continually improve your vacation rental and enhance the guest experience.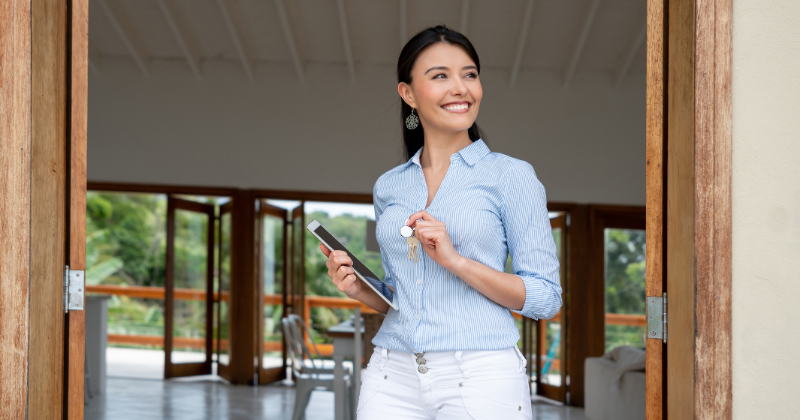 Do I Need to Hire a Property Manager?
Managing a vacation home property on your own can be challenging, but it is possible to do it yourself and still make a profit – but be prepared to work. If you're managing your vacation home property on your own, follow the guidelines above to strive for a 5-Star experience for your guests. Also, pay close attention to a few special tips below.
Research & Planning: Start by conducting some research into the vacation home market and your particular community. Consider exploring or visiting other vacation homes in your area. Make note of what those properties offer that appeals to vacation renters.
Spend time researching comparable rates. Consider that higher rates might not get as many rentals, but it might attract a different audience. Learn as much as you can about the online vacation rental programs available to use. In a sense, these online booking programs perform some of the functions of a property manager for a fee.
Set Up a System: Create a system for managing your bookings, inquiries and guest communications. This could be as simple as a spreadsheet or as sophisticated as property management software. Keep in mind online booking programs will provide some of this functionality for you.
Create a Checklist: Create a checklist of tasks that need to be done before and after each guest stay, such as cleaning, restocking supplies and checking for damages.
Keep Track of Finances: Keep track of your expenses and income, including rental fees, cleaning fees and maintenance costs, to ensure that you're operating at a profit and maximizing your tax deductions.
We Can Connect You with a Property Manager Who Fits Your Needs
With their expertise and experience, property managers can take care of all the necessary tasks involved in managing your vacation home rental. However, if you're managing your vacation home property on your own, there are steps you can take to ensure that your property is well maintained and your guests are happy. Whether you choose to work with a property management company or manage your vacation rental property on your own, the key to success is always providing an exceptional experience for your guests.
"Finding the right vacation rental property manager can take some work," said Coscia. "We regularly help owners find the right property manager for their home, and we can recommend a great list of companies and managers to consider."
Let us know how we can help. To learn more, visit www.personalrealtyadvisers.com or call us at 727-317-SOLD.