Having well-planned strategies to stage your home can positively impact your final selling price. The cost of staging a home usually is well below that of the first price reduction if a home remains on the market for too long. If a home remains on the market for a month without an offer, the average selling price drops 5%. On a $500,000 home, that's $25,000.
"Statistics show the best chance of getting at or close to your asking price is when it receives an offer within the first two weeks," said Robert Coscia, Broker and Owner of Personal Realty Advisers. "If your home doesn't make a WOW impression, it may sit on the market longer, potentially looking bad to prospective buyers and leading to a price decrease to reinterest potential buyers."
According to Realtor.com, on average, staged homes sell 88% faster and for 20% more than nonstaged homes. According to the National Association of Realtors (NAR), potential buyers spend, on average, 40 minutes in a staged home compared to only 5 minutes in a non-staged home.
What is Home Staging?
Simply put, home staging prepares your home by making it more appealing to potential buyers. Traditional staging done well should give buyers a sense of well-being when they enter each room and help them visualize themselves living in the home. There's an unmatchable feeling of physically walking into a staged property and feeling "at home."
If you are placing your home on the market, "setting the stage" by decorating, cleaning, furnishing and adding aesthetic elements can boost your chances of selling quickly and getting top dollar for your property.
"Many sellers have a vision in their mind of what STAGING is and what it looks like, but staging can take many forms," said Coscia. "We work with sellers to explore and coordinate home staging options and to determine the option that is best for them and yield the greatest sale outcome."
Types of Home Staging
Traditional Staging: When most people think of staging a home, the first thing that comes to mind is staging an unoccupied home, where rental furniture and props are brought in to make an empty house show-ready.
Professional stagers often have a large inventory of furniture, décor, artwork and other items they pull from to help your home look its best. However, using a stager's inventory incurs extra fees that sellers often resist paying.
Virtual Staging: One option to manage the cost of staging is virtual staging, but this only focuses on presenting the most enticing listing photos. Considering that 90% of buyers use the internet as part of their house hunting, you could benefit from virtually staging your house for this purpose.
Virtual staging is an increasingly popular solution that allows you to achieve beautiful listing photos without moving a single piece of furniture. It uses software or CAD programs to alter photos with enhanced lighting, furniture, and other design elements. Note that virtually staged photos must be disclosed in property listings.
Virtual staging, however, doesn't offer the same WOW factor when a potential buyer walks into a traditionally staged home. Virtually staged photos can also lead to disappointment when buyers get to the house, and it doesn't look like the pictures.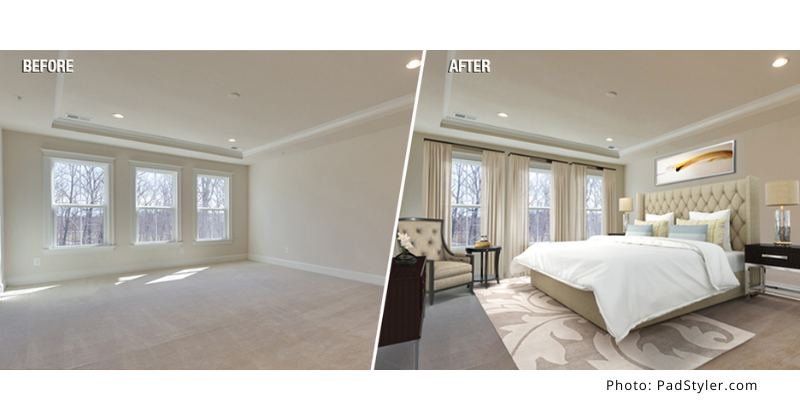 Staging Occupied Homes
"Some sellers believe they don't need staging if they have a furnished home," said Coscia, "but that usually isn't the case. Most sellers need guidance to understand how buyers WANT to view a home they are considering for purchase."
You want your property to stand out as the first choice for would-be buyers, especially if similar homes are for sale in your neighborhood. In addition to selling in one-fourth of the time it takes for nonstaged homes, staged homes are often the objects of bidding wars.
One problem, however, is that not everyone can afford to buy their next home before selling their current one, so living in a home staged for sale can be a necessity.
"It's essential and challenging to keep the home in a staged condition to be prepared for showings," said Coscia. "Sellers need to trust their Broker or agent to help them see what a difference even minor staging can make to a home's appearance and sale outcome."
Coscia and his team offer several tips for how sellers can LIVE in their homes and still make them accessible for showings in a way that impresses prospective buyers.
Get an outsider's view of your home. We often don't see the messes and clutter around us daily. Have an objective professional walk through your home and point out the clutter and small messes that could catch a buyer's eye.
See all the tips below for the Do-It-Yourself stager. Especially if you are living in the home, all those tips apply to you and your home.
Use attractive concealed storage to stash your everyday items quickly: piles of shoes, junk often left on the kitchen counters, TOYS, pet stuff, etc.
Schedule regular cleanings on Fridays, so the house is clean for the weekends when showings typically occur.
For sellers with kids, pets or full homes that get messy quickly, work with your Broker or agent to schedule only certain days for showings (preferably right after cleaning day).
Hire a professional stager. They regularly work with live-in home sellers, and they can provide the best advice for staging your live-in home.
Know that some staging companies are willing to get paid at closing, so remember to ask about this when you consult a staging professional.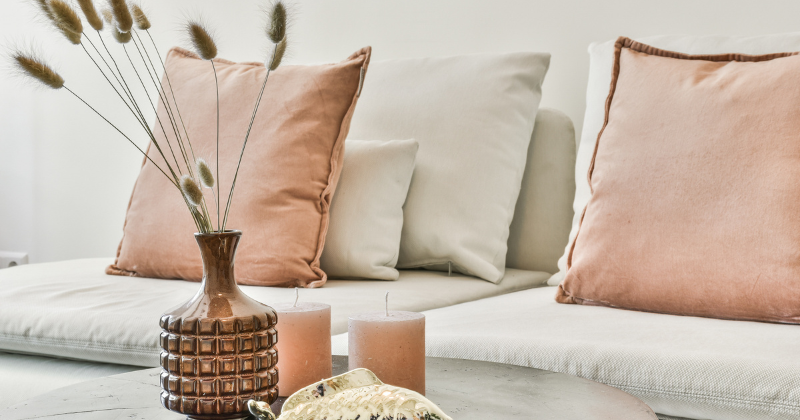 ---
OTHER OPTIONS
If you decide that continuing to live in your staged home is not the right fit for you, there are other options.
Consider moving out and renting a home during the sale process.
Explore bridge-type loans that can be used as a down payment on your new home (e.g., an equity loan on your current home, a temporary loan from your 401(K) or other retirement funds, etc.).
Use Virtual Staging to alter the look of some of your live-in rooms.
---
Do You Need to Hire a Pro?
Whether your home is empty, cluttered, or somewhere in between, a professional home stager can prepare it for sale. Professional stagers will assess your home, arrange décor and furniture you already have, bring in other carefully selected decor items, and make the house ready for listing photographs and showings.
Hiring a professional stager is especially recommended for the sale of luxury properties. Professional home stagers are equipped to blend interior design with marketing strategies to appeal to the ideal demographic of potential buyers for your luxury home. Additionally, luxury staging experts often have real estate experience that can work in your favor.
Enlisting a professional stager is usually a wise investment, but you can stage your home on your own in many ways. In most cases, the biggest mistake you can make when selling your home is keeping it as it is and not doing any staging, but not all homes require professional staging.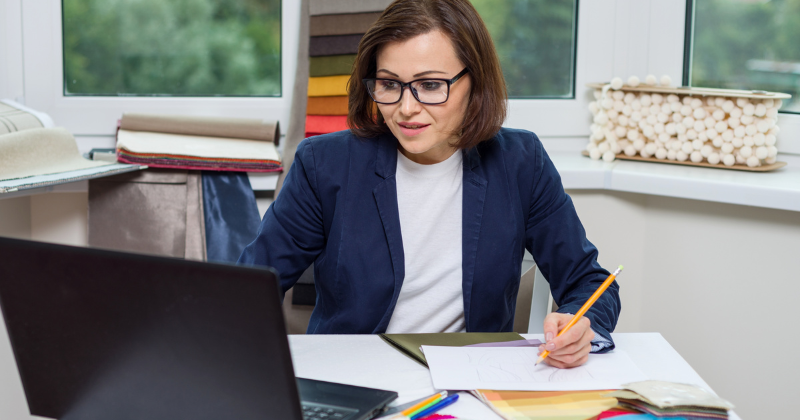 Home Staging for the DIYer
If you are willing to do the work yourself, trust the guidance of your experienced Broker or agent to make a plan for your DIY home staging needs. Your real estate professional can recommend what rooms to stage and whether you can do it yourself or should hire a pro. Trust them; they are in homes daily, preparing them for the most successful sales.
Selling your home is a great opportunity to purge (and you should!), but you don't have to get rid of everything. It might mean storing some of your furniture and bringing in a few new items to freshen up a room.
Being able to show an appropriate scale of a room is also essential. For example, you may have a small dining room table, but you must show buyers that a large one would fit well.
STAGING – Rooms Most Commonly Staged:
Living room (90%)
Kitchen (80%)
Master bedroom (78%)
Dining room (69%)
Bathroom (56%)
Home office/space (39%)
Outdoor space (37%)
Guest bedroom (23%)
Children's bedroom (22%)
"The first impression usually is the only one that matters," said Coscia. "If you are going to stage your home yourself, follow the tips professionals offer to maximize how your home will show to potential buyers."
Guidelines and Tips for DIY Home Staging:
Personal items make it harder for potential buyers to envision themselves living there. It is better to depersonalize the spaces. (Personal items also may offer clues for offer negotiations that you might prefer to be kept confidential – such as whether you have a family, are caring for elderly parents, work in highly-paid professions, etc.)
Remember the concept that less is better. Declutter, declutter, and when you're done, declutter some more. We get used to seeing our home a certain way and automatically overlook clutter, but buyers won't.
Closets should appear about half full, as storage is always a consideration for homebuyers.
Dated furnishings can turn buyers off to a home even though they KNOW they aren't buying the furnishings. Get rid of or store dated furnishings and bring in fresh furnishings or maximize the open space.
Choose minimalistic designs and neutral tones to allow potential buyers to imagine themselves in the home. Neutral colors also provide a welcoming and relaxing atmosphere.
Strive for functional designs, creating simple, clean lines with furniture and using light tones to brighten the space that will appeal more to the eye.
Update kitchens with shades of white, add a new backsplash, and change cabinet handles if they are outdated. In addition, the kitchen should be clean and inviting, with organized and tidy cabinets.
If you have dogs or cats, you should consider boarding them during open houses, as not everyone is open to the smell of a litter box or being greeted by an excited dog.
---
REMEMBER to Paint and Create Curb Appeal
The exterior of your home is the first thing buyers see. Poor curb appeal can even cause a potential buyer to decide it's not worth coming inside. Plant some flowers, edge the lawn, paint the front door, change outdated hardware or light fixtures, and add accent lighting to entice buyers before they even walk through the front door, pressure clean the sidewalk and driveway, and even clean the public road in front of the home.
---
How Much Does It Cost to Stage a Home?
Home staging costs vary depending on the level of products/services you choose and where you live. Getting a consultation (which you may pay for) is essential to get pricing. Generally, the average cost for an initial design consultation with a staging specialist is $300 to $600, but some stagers provide the consultation at no charge.
Remember to check with your stager whether they charge by the hour or have a fixed rate for added services. In general, if it's project-based, it will cost $800 to $1,000, and $500 to $600 per month per staged room. Home sellers typically pay between $752 and $2,848 in home staging costs, according to data from HomeAdvisor.
It costs less to stage a home virtually. Costs vary by company and platform, ranging from $20 to $150 per photo.
Although the seller is responsible for staging costs, your Realtor can help make recommendations and point you in the direction of which staging options are a good fit for you. In some circumstances, the Broker/Realtor or the staging professional may cover the cost upfront to be reimbursed at closing if a listing agreement (or staging contract) is in place.
We are Here to Help
Do you have questions about how staging can get your home sold? At Personal Realty Advisers, we can help you through the process of buying or selling, staging or not staging. We educate our sellers on staging strategies, and we can bring in professional design/staging professionals to offer advice. We can even take care of the staging for vacant homes. Contact us today to start planning for the sale of your home: 727-317-7653 (SOLD) or email info@PRAFlorida.com. We look forward to hearing from you.