This blog has a bit of a different focus than most of our articles. It shares information we often are asked to provide for many of our transplant clients – homebuyers who have relocated here (St. Petersburg / Tampa Bay area), usually from other states. When their first guests are soon to arrive, they often ask for tips about off-the-beaten-path activities they can share with their visiting family and friends.
So, here we are, sharing a few of our favorite things that we like to do around the St. Petersburg area. This is by no means a best-of-the-best list that showcases some of our communities' best attractions. For those, we suggest you check out some of the popular and helpful resources below.
There definitely is TOO MUCH to share, so for now, we're limiting our list to our top four categories: Music, Markets, Water Fun, and Wining & Dining.
MUSIC
We are starting with music, because it's one thing we always say we love about St. Petersburg: You can find excellent live music any day of the week. Many of the best venues are known mostly by locals, but they are welcoming to everyone. Below are a few of our favorite venues.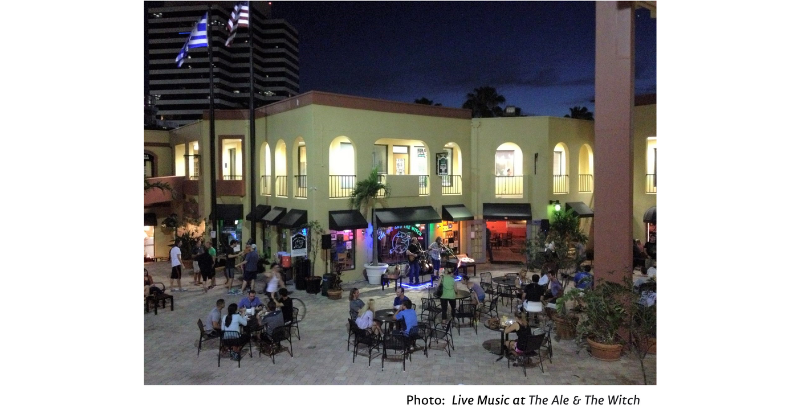 The Ale & The Witch
111 2nd Ave. N.E., St. Petersburg, FL 33701
Tucked away in a small courtyard between downtown business buildings is The Ale & The Witch, located side-by-side with several other great wine and dining venues. The Ale & The Witch sponsors great music from local bands and solo artists, usually presented outside in the courtyard, weather permitting, which it usually is. There is NEVER a cover charge. Music is NOT daily, but it's a pretty full schedule worth checking out.
The other big attraction is that there are 30 American Craft beers on tap. Not a big beer drinker? No worries. Obtain your favorite beverage or munchie from one of the nearby vendors and bring it outside to enjoy the live music.
Ruby's Elixir
15 3rd Street N., St. Petersburg, FL 33701
Ruby's Elixir is downtown St. Petersburg's longest-running live music venue for jazz, blues, funk, and rock. They present live music seven days a week, and there's NO cover charge. Note that Ruby's Elixir is a BAR conjoined to Central Cigars, so smoking is allowed in the venue. Most nights, they have the entire wall of doors open with tables on the sidewalk, so there usually is some smoke-free space to enjoy the music. Their music runs nightly from 7:30 p.m. to 2 a.m. It makes for a long night, but trust us, you likely will be energized and dancing.
Ka'Tiki
8803 W. Gulf Blvd., Treasure Island, FL 33706
Located on Sunset Beach in Treasure Island, Ka'Tiki is another venue that provides live music seven days a week, 365 days a year. This is a casual, open-air beach bar with a thatched roof, so it's a perfect place to go after spending the day on Sunset Beach. Swim trunks and flip-flops fit the dress code perfectly.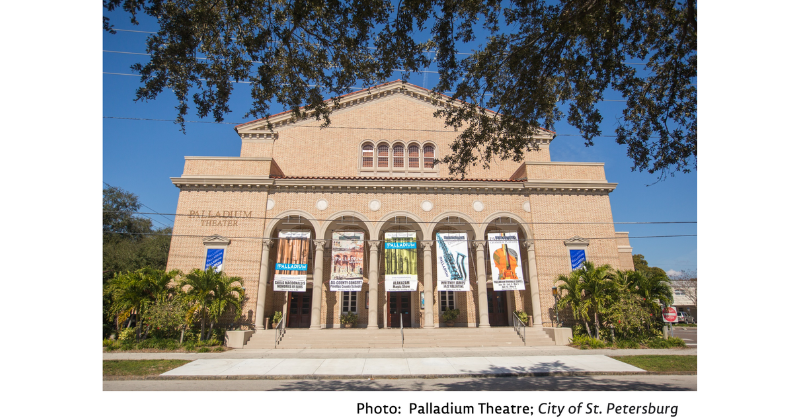 Side-Door, The Palladium
253 5th Avenue N., St. Petersburg, FL 33701
With some advance planning, you can enjoy fantastic music of varied forms at the Side-Door Cabaret, a relaxed music room in the historic Palladium Theatre. The smaller, casual location allows for a more intimate environment for both guests and musicians. Many shows sell out ahead of time, so booking in advance is encouraged.
Listening Room Network/Concerts in Your Home
The Listening Room Network is the leading promoter of concerts in people's homes. The organization's home is based here in St. Petersburg, so the concert options are plentiful here. After paying a nominal fee ($10 for a Regional Fan membership), you can access the schedule of dozens of house concerts in homes around Tampa Bay (or anywhere!). Select a concert you're interested in, introduce yourself to the hosts, express your interest in their upcoming concert, and you'll receive an invitation with concert details. The website provides links to easily access music and videos to preview many of the performers.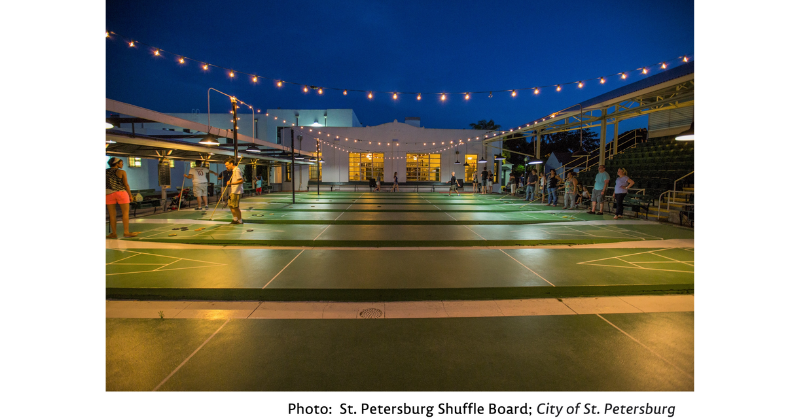 St. Petersburg Shuffleboard Club
559 Mirror Lake Drive N., St. Petersburg, FL 33701
Okay… This doesn't really belong under this category, but they'll have music here once in a while. When you mention shuffleboard to your out-of-town guests, they will envision Golden Girls or some other image of a much older generation, but in downtown St. Petersburg, shuffleboard is COOL. St. Petersburg is home to the largest and the oldest shuffleboard club in the world, with 76 courts and more than 2,000 members. Every Friday night from 7:00 to 10:00 p.m., the Club hosts the St. Pete Shuffle, where the courts are open to anyone to play for $10. The club supplies the equipment, and you can bring your own food and drinks to enjoy. You also could join as a member or join a league. Well-behaved dogs also are welcome. This is an excellent activity if you have guests with kids, but everyone will enjoy this special environment.
MARKETS
St. Petersburg is a community of Foodies. That includes our own food preparation, so local markets are big in St. Petersburg – and Tampa! We're featuring a few markets close to St. Petersburg, but many markets on the Tampa side of the Bay are worth checking out.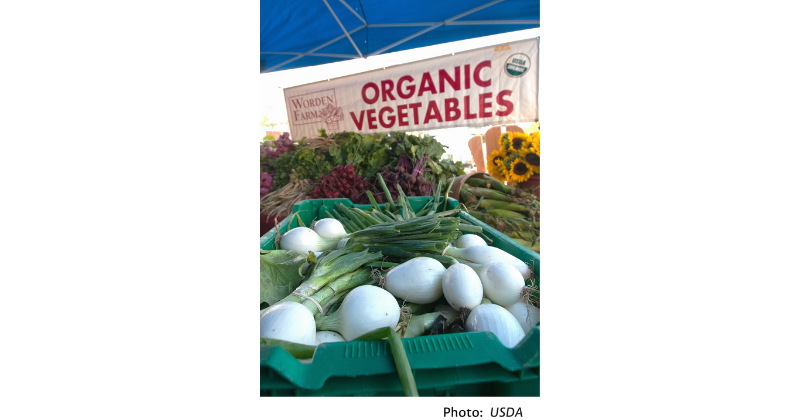 St. Petersburg's Saturday Morning Market
230 1st Street S.E., St. Petersburg, FL 33701 (winter market)
St. Petersburg's Saturday Morning Market is the largest outdoor market in the southeast United States, and it's one of the top 20 in the country. The full market runs October through May with about 170 vendors, including local farmers, artisan food vendors, ready-to-eat foods, juried craft vendors, and local nonprofits serving the community. The winter market also features live music every week. A smaller market runs through the summer in Williams Park.
Corey Avenue Market
300-398 Corey Ave., St. Pete Beach, FL 33706
On the smaller side but equally diverse and wonderful is the Corey Avenue Market, located in St. Pete Beach, which runs from October through May. The market is surrounded by interesting and wonderful shops and restaurants – all worth checking out – some with live music on Sunday morning. This market is also close to the beach for some surf-front fun or relaxation afterward.
Sunday Market at Sweetwater Community Organic Farm
7318 W. Comanche Avenue, Tampa, FL 33634
This is a great down-to-earth choice if you're looking for something off the beaten path. The market runs from November through May and features live music every week—usually bluegrass or folk. You also can plan ahead and join their Sunday morning yoga class.
Vintage Marche
2906 34th St. S. St. Petersburg, FL 33711
Vintage Marche is Tampa Bay's largest monthly vintage market, with more than 15,000 square feet of re-imagined vintage pieces and antiques. Open the first Saturday of each month, the inventory changes each month as the market's vendors are constantly scouring the region for the best vintage furniture, lighting, home décor, art jewelry, and clothing. If you and your guests like all things vintage, repurposed, antique, mid-century modern, industrial, farmhouse, rustic and unique eclectic, this is your place.
BEACH & WATER EXCURSIONS
We are surrounded by water, so it's no wonder most of us are water-loving people. In it, on it, near it…water is important to us. Below are a few of our favorite water-loving activities – at least those that are welcoming to the mainstream and northern guests.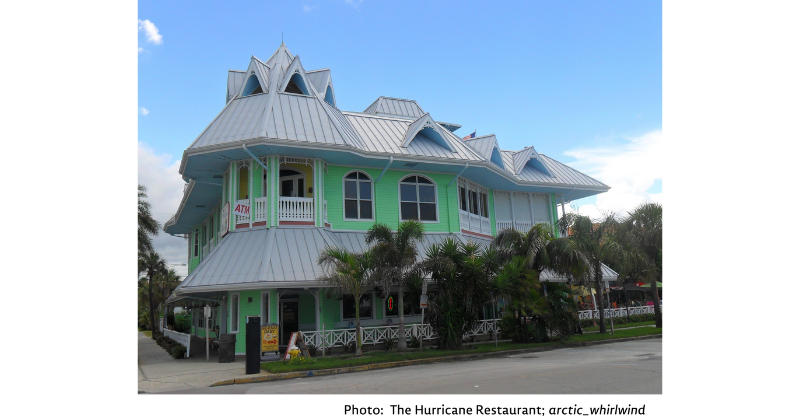 Sunset on the Rooftop of the Hurricane Seafood Restaurant
809 Gulf Way, St. Pete Beach, FL 33706
We'll admit, this is one of the more touristy things on our list, but it's still something we truly enjoy doing. Being a couple of stories up to watch the sunset over the Gulf of Mexico is a beautiful way to end any day. The rooftop fills up for sunset, so get there a little early to get a good seat. The rooftop is a bar only (no food), so consider one of the Hurricane's other levels for good dining before or after sunset. Music is provided many evenings by local musicians.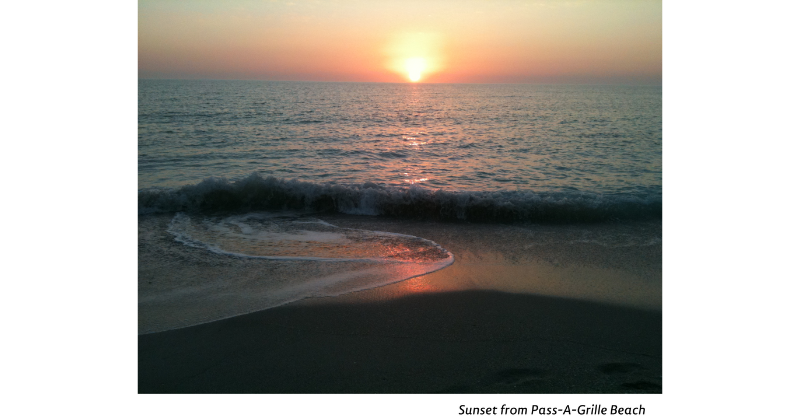 Beachfront Sunset
22nd Ave. and Gulf Way, St Pete Beach, FL 33706
If your idea of a sunset is doing it from the sandy beach and surf, our favorite place isn't far – still in Pass-A-Grille. If you want to be among a crowd for a small group sunset celebration (sunset applause), Paradise Grille or somewhere nearby is a good spot. If you're looking for some seclusion, head to the northern tip of Pass-A-Grille beach, just north of the 22nd Ave. beach access ramp (also called The C. Delgato Way). Most tourists don't venture that far north. Bring a beach blanket or chairs, some music on your phone or an old-fashioned iPod, some light munchies, and enjoy. Because there are fewer people on the beach here, you also can bring kites and have some fun.
If you're looking for a hardier, easier beachfront meal for your sunset, we recommend pizza from our favorite Italian restaurant right around the corner: Gennaro's. Grab takeout and head to the beach for a sunset that rarely disappoints.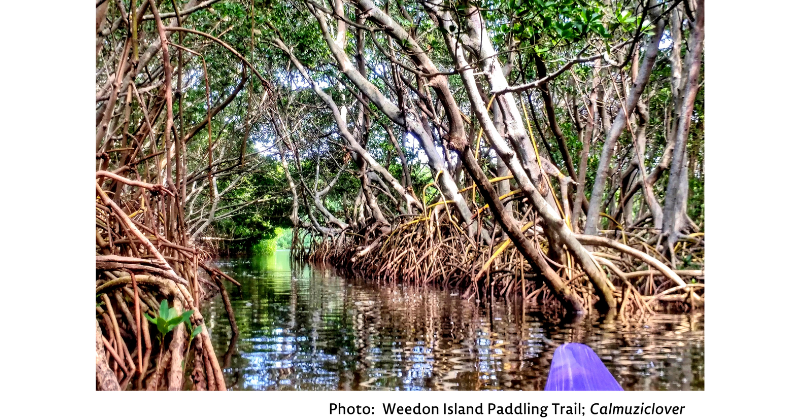 Paddling Trails at Weedon Island Preserve
1800 Weedon Drive N.E., St. Petersburg, FL 33702
If your idea of water fun is a little more immersive, we recommend checking out Weedon Island Preserve from the water. You can bring your own kayak or canoe or rent one and make your way to the paddling trails through the preserve, where you'll venture through mangrove-covered trails and enjoy open alcoves of sunshine and wildlife.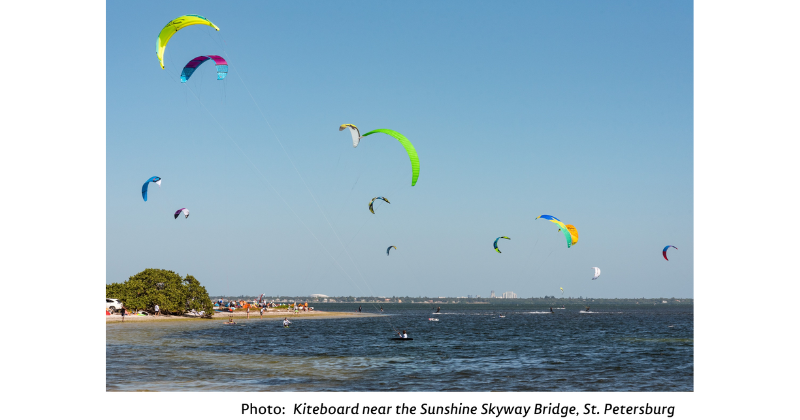 Sunshine Skyway Bridge Kiteboarding
Sunshine Skyway Bridge
The Sunshine Skyway Bridge is impressive in and of itself (a 4-mile suspension bridge that is lit up at night), but on most mornings (if there is a little wind), you'll find dozens of kiteboarders on the beaches along the bridge. Kite surfers use the west or the east side (depending on the wind direction). You can drive up in your car, bring a chair, and it's awesome to watch. If you want to get into the action, there are numerous groups and small companies that provide lessons at various points along the Sunshine Skyway Bridge that you can find with a search on Google, Yelp or other social media platforms.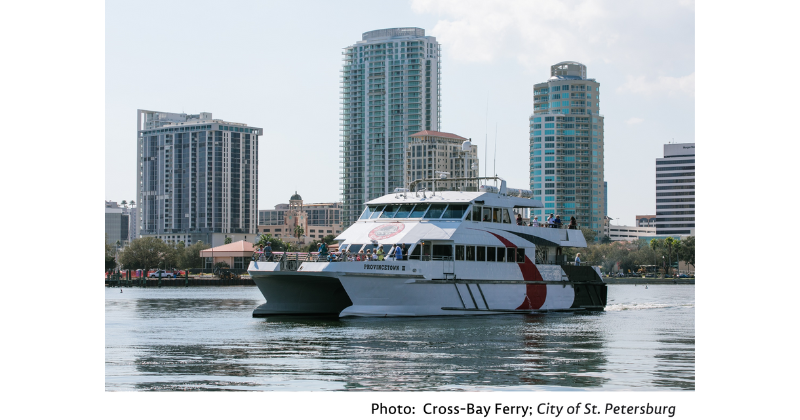 Cross-Bay Ferry
375 Bayshore Drive N.E., St. Petersburg, FL 33705
The Cross-Bay Ferry provides an excellent opportunity to see some of the best of downtown Tampa without the hassle of driving and parking. When you arrive in Tampa, enjoy the Tampa Riverwalk along the Hillsborough River or use bike share, the streetcar or water taxi to get to your desired designation. There are numerous galleries, museums, theatres, restaurants, and much more to enjoy.
Wine & Dine
There's no way to narrow the list of fabulous places to eat in St. Petersburg or around Tampa Bay, so we suggest you not even try to limit your list. Boutique wine bars and breweries also have grown in number all around, so there is no loss of places to try. Here we are offering one off-the-beaten-path suggestion and one option to aid in your exploration.
Paradise Grille
900 Gulf Way, Pass-a-Grille Beach, FL 33706
We originally had this under Beach excursions because that's the main reason you'll dine at this location – the BEACH! You would never expect a beach concession stand to produce such good food, but Paradise Grille does. The food is casual but delicious and affordable. You can't beat this dining venue: Grab a picnic table and enjoy the Gulf view and soft breeze. There often is fabulous live music and sometimes an occasional market.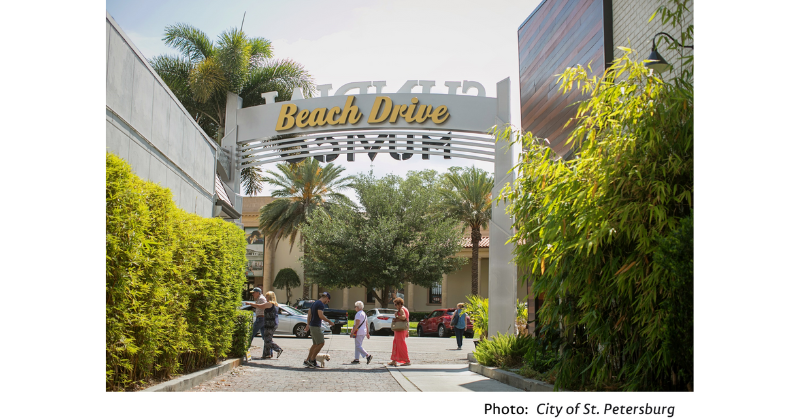 Progressive Lunch
Downtown Interactive Parking & Transportation Map
We have used this approach to celebrate special times by enjoying multiple restaurants along downtown St. Petersburg's Beach Drive. We might start with salad at Gratzzi Italian Grille; enjoy an appetizer at Cassis; have a main course at Stillwaters Tavern; and wind down our afternoon with dessert and cappuccino at The Vinoy or 400 Beach Seafood & Tap House.
Three suggestions to plan ahead for this: 1) This can become a pricy excursion, so be prepared. 2) Check the schedules of your chosen stops, as some close for a break shortly after their busy lunch hour. 3) If you're planning an evening exploration, consider making reservations.
Your Relocation Experts
We love helping homebuyers who are relocating to our area. Finding the perfect neighborhood and home is only the beginning. We are here to help you through every stage of getting settled and learning about your new hometown.
For those explorers who have asked for these recommendations, we hope you find them helpful and enjoyable. To everyone, we welcome your suggestions to share with others (and with us). We always are looking for more extraordinary places in our local communities to enjoy.
We (all of us who love St. Petersburg / Tampa Bay) have a lot to share. If you have friends or family thinking about relocating to our area or maybe finding a vacation home, please refer them to us. We will treat them like family and provide the expert service and care they deserve. Contact us anytime: Robert Coscia, 727-317-7653, info@PRAFlorida.com.