Let's start with some important facts about recent home sale prices in Florida:
According to research by Florida Atlantic University and Florida International University, homes in Tampa Bay continue to sell at a premium, far beyond expected prices. While the average home sold in Tampa for 39% above the expected price at the end of 2021, that number rose to 49% as of 3/31/22.
In the latest housing data by Florida Realtors®, the statewide median sales price in April 2022 for single-family existing homes was $410,000 (up 21.8%), and condo-townhouse units were $310,000 (up 24%) from the previous year. The median price is the midpoint; half the homes sold for more, half for less.
With experts forecasting 2022 to be another year favoring sellers over buyers, pricing your home correctly is probably the most critical factor and sometimes the most challenging when deciding to list your property for sale.
Understanding the List Price
The list price is the price you and your agent set when selling your home. Pricing your home to sell is a complex calculation, even in a strong seller's market. It is essential to have a qualified Realtor and Broker represent your interests and investments and get the list price right when your home hits the market. Having someone to represent you who understands the market will help you set your home price correctly from the start to help maximize your sale profit.
Don't Go It Alone…Trust the Experts
Studies show that the first two weeks a property is on the market are crucial to selling success. During this initial period, your home will be shown to active buyers. If your list price is perceived as too high, you will lose this crucial captive audience, and you can lose out on buyer interest and the window of opportunity that comes with the appeal of a new listing.
While underpricing your home can leave money on the table, overpricing can cost you the sale. Your property may sit on the market without showings until the price is lowered to the right price, leaving potential buyers skeptical and suggesting something is wrong with the home.
With over 30+ years of real estate experience and over 20 real estate Certifications, Personal Realty Advisers has the knowledge and expertise to help you achieve the best price outcome while ensuring a low-stress environment throughout the selling process. We work with you to determine the correct list price and terms so you can be confident in attracting buyers, maximizing resale value, and ultimately selling your home using the best real estate strategy possible.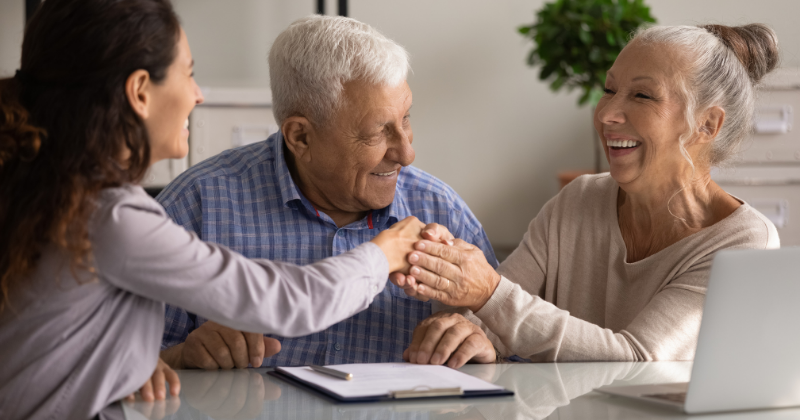 The Importance of Comparison ─ Comps
Top real estate agents draw on their experience, current local market trends, and a fair amount of psychology as a starting point in determining what a seller's home is worth when establishing a list price. Other considerations include competing properties, time of year, inventory, and comparable sales (or comps) of properties located in the same area and very similar in size, condition, and features as the home being listed. While sellers and their real estate agents use comps to determine their home's list price given the current market, buyers and their real estate agents also look at comps when deciding what price to offer a seller for their home.
The Comparative Market Analysis (CMA)
Conducting a comparative market analysis (CMA) is crucial in setting the list price for your property. While online sites can provide home value estimates based on data from public records and past sales of similar properties, a computer algorithm is no substitute for a licensed, professional real estate agent when it comes time to sell.
Experienced Realtors are trained to research and analyze all types of comparable data and competitive differences when determining a home's list price. Top Realtors analyze nearby home sale prices currently pending (awaiting closing), which are the most up-to-date market indicators of prices in the local market and are not public information. far beyond the selling prices of other homes to examine how much time other homes stayed on the market (referred to as Days on Market or DOM) and whether a selling price was reduced or bid up from the original list price. They explore patterns that might explain why one house sold at or above list price and another did not.
Location … Location … Location
While many market-dependent factors determine the most accurate comparables, location remains right at the top of the list. Matching what your home offers to what buyers want in terms of location and local amenities can significantly impact the value of your home … and, therefore, its list price.
For someone with children, school options and playgrounds may matter. Commuting to and from work is a big part of many people's days, so a buyer may care about easy access to roads and public transportation or even walkability. Is there convenient shopping nearby, or is it a long drive to the nearest supermarket? If health issues are of concern, is there a nearby hospital? Is there a clubhouse or recreation available for someone looking to meet people? Is crime a concern?
Location within a neighborhood can be even more specific when it comes to comps: is the property located on a quiet cul-de-sac or a high-traffic street? Will the property require a lot of upkeep, or is it a maintenance-free community? Are there deed restrictions? Does the house have a picturesque view of a lake or overlook a parking lot? These distinctions matter and must be considered when comparing comps of recent sales.
Property Condition and Features
The condition of a home dramatically influences its market value and therefore needs to be reflected in the list price. When a property isn't in tip-top shape or requires fixing up, it's best to do required repairs before putting the house on the market if financially possible. For example, you may have a higher return if you focus on low-cost maintenance to the exterior of your home (curb appeal). However, you may be able to negotiate repairs and offer contingencies, especially in a seller's market.
From a well-maintained home to one with significant issues that you don't want to repair or update, Personal Realty Advisers has extensive contractor-level knowledge in all areas of construction and pre-inspects listings to help you determine which property repairs should be made before going on the market to quicken the sales process and reduce buyer negotiation power.
Similarly, upfront disclosure will prevent last-minute obstacles and mistrust. When understood and considered in valuing a home, condition problems that are corrected and disclosed should not prevent or delay the sale of a home.
Do Home Improvements Matter?
Not all home improvement projects offer the same bang for the buck. You cannot simply tack on the total dollar cost of what you've done. Most projects yield a 70% return on investment (ROI), but it truly depends on the type of project and location. Unless the remodeling project is designed to fix a structural issue or design flaw, it is unlikely that a homeowner will earn back more than construction costs.
If cost recovery is an important consideration when enhancing a property, homeowners should consider the tastes of prospective buyers when deciding which projects to pursue. Remodeling just before listing your house is generally not wise. According to new findings in the 2022 Remodeling Impact Report, a joint study from the National Association of Realtors® and the National Association of the Remodeling Industry (NARI), the impact of a project or an upgrade varies on the market and your home's existing value. The report is beneficial in that it's the first to measure the impact of the pandemic on the price and relative value of various remodeling projects.
Depending on the individual buyer, amenities like wood floors or a swimming pool may add or detract from a home's appeal. A remodeled kitchen or bathroom usually increases a property's value, but not for every buyer. It is recommended that sellers focus on minor updates and repairs that a reasonable buyer would expect that impact the property's safety, structure, and functionality.
Personal is in Our Name
Now more than ever, sellers can benefit from the expertise of a local Real Estate Broker to guide them through current market conditions. At Personal Realty Advisers, we work with no more than five active clients at a time to ensure each client a personal and detailed-oriented experience.
We take a hands-on approach right from the start, putting our Ph.D.-level academic research skills to work on every property. It's crucial to accurately assess a home's value to establish the right price for the listing agreement. Doing so is key to getting potential buyers in the door.
We believe that the best real estate deals happen when everyone walks away happy. As a seller in 2022, resolve to move on from your home, treasure the time you spent there, and be grateful to the buyer who will care for your home. First impressions are everything when selling your home. Making sure your home is priced correctly will help it stand out.
At Personal Realty Advisers, we put our experience to work and go beyond the norm to provide ample information our buyers and sellers need to help them make the right decision.