The first step in the home-buying process is assessing what type of property best suits your needs. For many, the choice is between a condominium or a single-family home.
"Before jumping in with both feet, we advise buyers to take some time to assess whether condo living is right for them," said Robert Coscia, Broker and Owner of Personal Realty Advisers. "We often have buyers who start down one path, only to end up purchasing a different type of home altogether. The time lost during that decision-making could have meant missed opportunities."
As an educated homebuyer, it's important to consider carefully the pros and cons of living in a condo versus a single-family home, said Coscia. "Both have advantages. It just depends on what the homebuyer wants and is comfortable with."
Condo living can come with attractive advantages such as desirable downtown or beach-front locations, affordability, being low-maintenance, etc., but there are crucial aspects to consider. "It's important to know the right questions to ask," said Coscia.
With more than 30+ years of real estate experience, a trusted and knowledgeable Broker and Realtor like Personal Realty Advisers will help you analyze your choices so you can feel confident in your purchase.
"Important considerations for most buyers," said Coscia, "are the financial costs of condo living and the rules, regulations and restrictions." Buyers will have an opportunity to explore both fully during the buying process, said Coscia. That's part of the inspection period when someone submits an offer to purchase a condominium, or they can even be reviewed and considered before an offer is submitted.
Financial Considerations of Condo Ownership
What You Own with a Condo
If you're considering buying a condo, realize that in addition to your individual unit, you may also own a pro-rata share of common areas and amenities of the community (e.g., pools, playgrounds, shared spaces, and dog parks). This also includes the land underneath the structure, which is why condo owners pay monthly or quarterly fees to a condominium association.
The condominium association (including you as a partial owner) is responsible for the exterior structure and the shared portions of the structure. As an individual owner, you are responsible for anything inside the walls of your unit. This presents special dynamics of ownership when it comes to things like maintenance and repairs and insurance. The condo fees help the association cover expenses for the shared portions of the complex.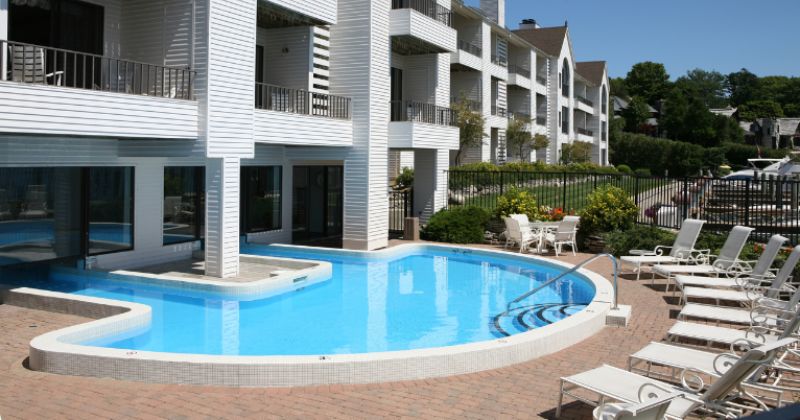 Condo Fees
Condo communities typically use the dues or fees paid by owners to establish and maintain different funds to cover maintenance, repairs and other "common charges" for upkeep. For example, the condo association takes care of landscaping, payment of the staff, exterior painting, paving, elevators, insurance, pool upkeep, security, and utilities in common areas.
Having these items maintained by your condo association relieves you of the worry and upkeep of similar features in a single-family home. The condo association takes care of building and property maintenance outside your unit, while you get to take advantage of many shared amenities.
Note that some condo fees may also cover essentials like water, sewer, trash, cable, and WiFi. Understanding this can help you with budgeting and determining what you can afford.
"This is one thing we often have to discuss with condo buyers," said Coscia. "Buyers see a large condo fee and think 'No way!' We point out how that compares to the many expenses they may already pay as a homeowner or renter. It often is close to a financial wash with a lot of added benefits."
EXAMPLE: Condo Fee vs. Home Expenses – One Bill or Many
ACTUAL CONDO FEE from the Multiple Listing Service: $545 / Monthly
Fee Includes: cable TV, community pool, insurance, Internet, maintenance exterior, maintenance grounds, manager, pest control, pool maintenance, recreational facilities, security, sewer, trash, water
SIMILAR MONTHLY HOUSEHOLD EXPENSES: $645 estimated*
(*based on online searches for average monthly costs in Pinellas or Hillsborough counties)
Cable TV: $65
Pool maintenance: $50
Homeowners insurance: $127
Internet: $50
Lawn maintenance: $100
Pest control: $30
Gym membership: $50
City/county sewer/trash: $26
Water: $85
Home security system monthly fees: $32
Other home/property maintenance: $30
The condo association's board usually determines their fees, oversees the funds, and decides how to allocate their use. As a condo owner, you will have to pay these fees even if you're not in favor of the improvements. Make sure you can afford this extra payment, remembering that, unlike your mortgage, condo association fees are not tax-deductible. Also know that long-term nonpayment of condo fees can result in a lien against your property.
Condo Reserve Funds
A homeowner's condo association manages a reserve fund for larger repairs and maintenance of common areas and shared structures like roofs. It is a savings account or other highly liquid asset funded by homeowner dues set aside to meet future costs or financial obligations, especially those that might occur unexpectedly.
While operating funds are typically used for a community's day-to-day expenses or recurring costs (e.g. routine maintenance, taxes, utilities, insurance, etc.), reserve funds are used to address large-scale renovation projects and costly emergencies. However, if a condominium incurs a large expense that the reserve fund cannot cover, each member or owner may be asked to pay an assessment to cover the cost. For example, unit owners may be asked for additional funds beyond their regular association dues when a condominium's swimming pool needs emergency repairs. Therefore, it's essential to understand the reserve fund levels for any condo you are considering for purchase.
You want to make sure enough money is being set aside for large purchases to reduce your chances of being assessed for repairs. A Realtor specializing in condo sales can help evaluate a condo's reserve funds to advise you appropriately. Appropriate reserve fund levels depend on various factors such as the size of the complex, the extent of the amenities, the age of the building, etc.
Homeowner's Insurance for a Condo
Condos typically require specialty condo insurance policies, which are different from homeowner's insurance policies that cover single-family homes. As the owner of a condo unit, you would purchase condo insurance, which generally covers your unit and belongings. It typically includes standard coverages such as personal liability coverage, guest medical coverage, building property protection, fire, water damage, and personal property coverage.
The condo association usually has a master insurance policy, which covers mechanical areas, the roof, hallways, and other shared spaces and amenities. Some master policies may cover the structure of your own condo unit, including the walls and the floors. Therefore, it's important to understand what master policy your condo association has to determine the fees and required coverages of your own condo insurance policy.
Condominium Rules and Restrictions
From parking regulations to garbage disposals, type of flooring and the use of common areas, every condo building or complex is governed by a set of rules and regulations enforced by a condo association. They are usually recorded in a governing document known as the Declaration of Covenants, Conditions and Restrictions (CC&Rs). Keep in mind, even within the same complex or association, these rules and regulations may differ by building. Not only do these rules and regulations ensure that everything runs smoothly and provide for your safety and comfort, but they also serve to elevate your condo's resale value down the road.
It's very important to make certain you're comfortable with the rules and restrictions set out by your condo association. With over 20 real estate certifications, Personal Realty Advisers has extensive knowledge and experience with condominium ownership. Our real estate agents in the St. Petersburg and Tampa Bay area will work with you personally to help you understand the specific provisions of the condo community you are considering.
Chances are high that if an activity has the potential to disturb the peace or comfort of other neighbors or could be dangerous or destructive, it likely won't be permitted in the community. Categories where use and maintenance rules may apply include:
Noise and Nuisances
Exterior & Interior Aesthetics
Common & Recreational Areas
Home Business Use
Pets & Animals
Vehicle Types & Parking
Garbage Disposal & Recycling
Rental & Guest Policies
Not abiding by your community's CC&Rs can result in verbal or written notices stating you violated a provision. You could be subject to a fine or charged for the cost of repairing something. Unpaid dues or fines can even lead to a lien on your property, with lawsuits and foreclosure being a final option.
Condo Pet Restrictions
"One of the most important regulations of concern to most of our future condo buyers is the pet restrictions," said Coscia.
According to the 2021-2022 National Pet Owners Survey conducted by the American Pet Products Association, 70% of U.S. households, or about 90.5 million families, own a pet. Without a doubt, pets are important to many happy homes, so this is a must to consider when shopping for your new condo home.
Pets and animals can become one of the most contentious issues in any condo community. The level of detail and restrictions can be both surprising and overwhelming. Associations commonly forbid or limit the number, size and type of animals residents can have (with the exception of service animals). You may be required to obey state or local laws, perhaps proving your dog or cat is vaccinated and licensed. Certain dog breeds, birds, rodents, reptiles, and other exotic animals might be limited, restricted or prohibited entirely. There could be penalties for violations, potentially ranging from paying a fine to giving up the animal.
It's important you review these pet policies and restrictions before making a purchase. You'll want to get answers to the following types of questions:
What types of pets are or are not allowed?
Are certain breeds not permitted?
Is extra homeowner's insurance required?
Are there weight restrictions?
Is there a limit to the number of pets per condo?
Can renters have a pet?
Similarly, there may also be limitations set by the condo association that must be followed, such as:
Only specified entrances/exits, elevators, hallways, etc. can be used with pets
Pets must be held or in a carrier when walking through the main lobby
Public elevators cannot be used with pets ─ only stairs or freight elevators
Certain interior and/or exterior common areas are not accessible with pets
On the flip-side, many condominium communities go far beyond "pet-friendly" – providing incredible pet amenities and conveniences specially designed for their residents, both furry and otherwise – where pets are not just allowed, but catered to. Some offer "pet concierge" services, vetting groomers, pet sitters, dog walkers, or veterinarians and make all necessary appointments and arrangements. Perhaps there's a "pet spa" for bathing your dog. Some condos permit pets to attend resident events, have a pet/dog park area, offer special pet play groups, and even create fun pet activities.
As a prospective condo buyer, you must understand the by-laws relating to animals. As a pet-loving Realtor and Broker, we make it our concern to learn more and know more, and we promise to guide you AND your family pets personally through the condo-buying process.
Your Right to Inspect
"This is a lot to consider, especially when you are dealing with all the other home-buying challenges," said Coscia. "Financing, learning a new community, packing and moving… Dealing with all these details can be stressful. Rest assured, we're here to help."
To deal with this complex purchase decision and process, Coscia explained that in the state of Florida, we have laws and regulations in place to protect condo buyers and help them feel more confident about their new home purchase.
Because condos are so popular in Florida, in 1963 the state passed the Florida Condominium Act to protect buyers when making a residential purchase. The act requires developers and owners to disclose certain documents before a contract becomes binding. Examples of mandated disclosure documents include association bylaws and rules, financial statements, and a current copy of the declaration of condominium.
Ideally, the documents should be reviewed before an offer is submitted, but that isn't always feasible in a competitive market. Thus, buyers have 3 days during the inspection period to review documents, "Which isn't much time," said Coscia. "We assist buyers to get documents quickly – before the 3-day limit starts – so they have as much time as possible to review documents and ask questions."
Coscia and his team also encourage buyers to check the condominium association's website and social media. "You never know what they'll be talking about online," said Coscia. "You might learn about an upcoming building renovation not mentioned in any legal documents. EVERYTHING is important to know."
The Difference Between Condos and Co-ops
It is important to know the difference between condominiums (condos) and co-operatives (co-ops). While co-ops are not as prevalent in the Tampa Bay area as they are in some cities like New York, we do have some in our community. The infographic below provides some quick facts and you can learn more about cooperatives from the CooperatorNews in New York.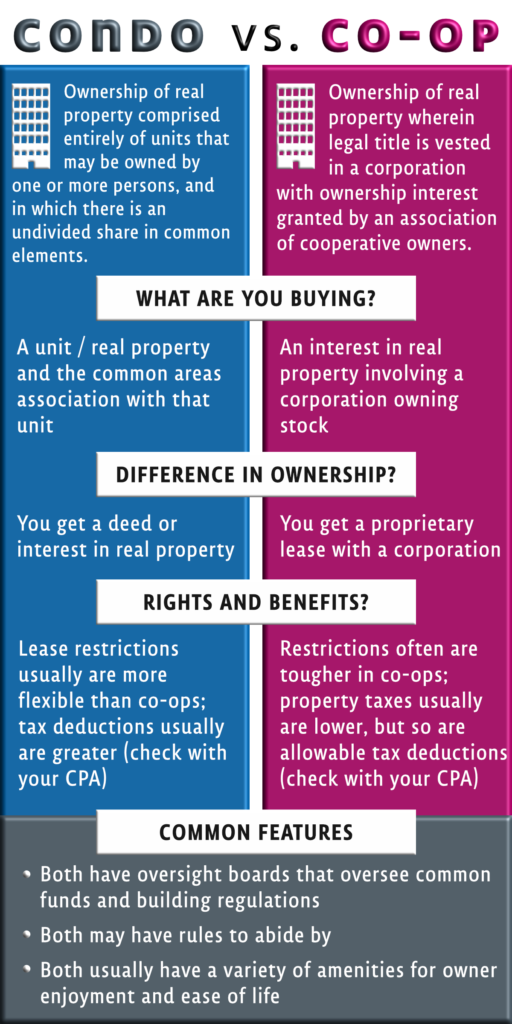 Structurally speaking, condominiums and co-operatives appear similar because there are multiple units within one multi-household building. The key difference is the ownership structure.
Condominiums: A condo is a private residence owned (by an individual, family, business or trust) in a building or community where residents share common areas with the other owners. You own your "home" and share the common elements, such as the building, yard, pool, parking lot, etc.
Co-operatives: When you purchase a co-op, you don't own the property, rather, you purchase a share of the legal entity (usually nonprofit) that owns the building (similar to stock ownership). That share provides "owners" a lease in a specific unit of the building, and it provides voting rights over the any decision that affects the building.
"Co-ops are not as popular here in Florida as they are in large northern cities like New York, so we're mostly dealing with condos," said Coscia. "Some Gulf communities have many time-shares or condo-hotels, and we can guide buyers and investors who are interested in that type of ownership."
Is Buying a Condo the Right Option for You?
As discussed here, there are some big considerations when choosing to purchase a condo. Condominiums provide homebuyers with a viable alternative to purchasing a single-family property, and they have some specific advantages and disadvantages. Condo living can be the perfect fit for certain homebuyers, especially those seeking a vacation home or those desiring turn-key convenience to come-and-go with ease.
Whether you have decided to buy a condo or still want to explore options, Personal Realty Advisers can help you through the process. We can help you find and evaluate the right condominium for your lifestyle, and we will help make the purchase and transition as smooth as possible. To begin exploring options, contact Broker Robert Coscia at 727-317-7653 or info@PRAFlorida.com. We are here to assist.