Home buying can be a tremendous challenge for many people, especially in this constantly shifting and changing real estate market. Homebuyers need strong guidance from trusted and experienced real estate professionals, as you will find at Personal Realty Advisers.
"It's more than just first-time homebuyers," said Robert Coscia, Broker and Brokerage Owner of Personal Realty Advisers. "Home buying isn't something most of us do very often, so many buyers need guidance to progress successfully through the process."
This is especially true in today's market. It's important to have a strong real estate Broker/agent. For previous homebuyers, today's environment is different, and you should be aware of those shifts and how they will change your home buying process going forward.
In this article, we will review some of those shifts and challenges for today's home buyers, and we will direct you to some guiding resources that Personal Realty Advisers wants to make sure buyers (first-time or new again) are aware of.
Challenges with Home Buying Today
The biggest challenge facing us today is cost. In the past 2 years alone, in Florida and Tampa Bay, the median sale price of single-family homes has increased by approximately 50%. Couple that with decreasing inventory of available homes (still low), mortgage rates that have risen faster over the past three months than they have in decades, plus a whole lot of competition, and you have an environment that can be difficult for most homebuyers to manage alone.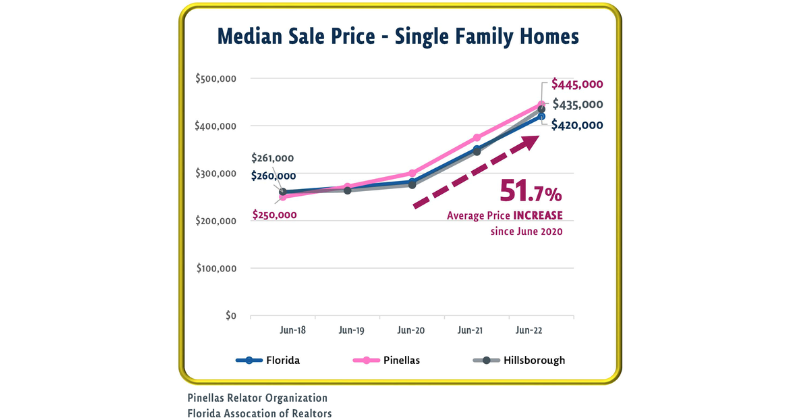 Many people also are getting knocked out of the housing market due to increasing costs. The National Association of Realtors said the cost of purchasing a house in the U.S. has increased 55% year over year since 2021, taking into account rising purchase prices, mortgage rate increases, and other related expenses.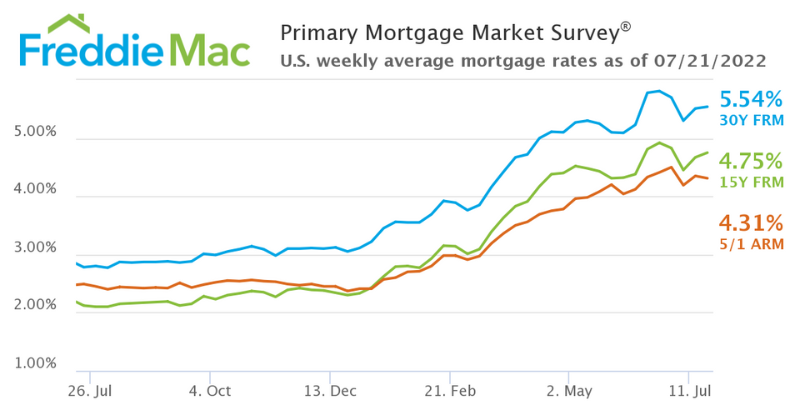 Infographic from Freddie Mac.
Having enough saved for a home purchase remains one of the biggest obstacles buyers face. According to homebuyer.com, the typical U.S. homebuyer spends 7 years saving for a down payment.
In the old days, the following strategy worked fine: If we couldn't afford to buy a house, we continued to rent while we saved.
"Today, that strategy can be a recipe for getting priced out of the buying market," said Coscia.
We also know rent prices have been rising out of control. According to Realtor.com, in the Tampa-St. Petersburg-Clearwater metro area, rents increased 31.1% in one year; that's the third highest in the nation overall. The average rent in Tampa now stands at $2,114.
"That's exactly the problem we faced with one couple trying to buy this year," said Coscia. "They were getting priced out of the rental market, so they decided it was time to buy, but everything was escalating out of their reach, and the buying competition was like being in a piranha tank."
Continuing to rent also deprives people of a key wealth-building strategy – home ownership. Many experts site home ownership as one of the most predictable and risk-manageable wealth-building strategies compared to other forms of income investment. It's one important benefit of home ownership.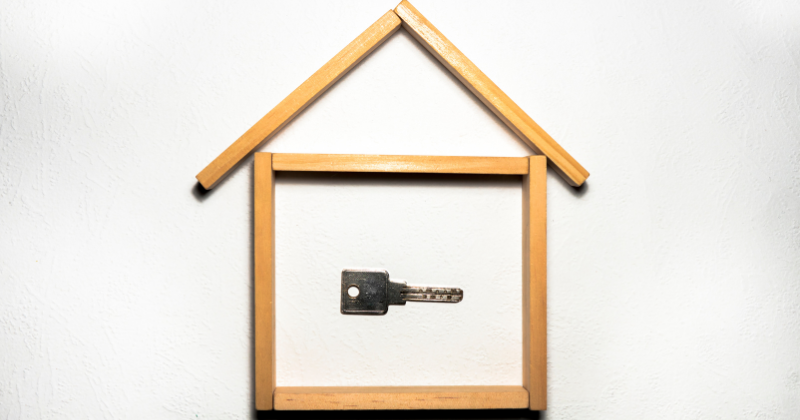 Benefits of Home Ownership
Despite the challenges, we know there are many benefits to home ownership – aside from the obvious, like no loud neighbors, no increasing rents, and more.
Wealth Building: Compared to renting, even with today's mortgage rates, building equity in a house instead of renting is still a sound strategy.
Taxes: Homeowners also benefit from favorable tax treatment because they can usually deduct the interest and property taxes paid on a personal mortgage.
Master of Your Own Destiny: One of the biggest reasons we all want home ownership is to be in charge of our residential future: have pets, paint the walls purple, build a new deck, or install a pool. You have the control instead of a landlord who is just watching his bottom line.
Homeownership Today
Despite the challenges in our current market, this still is a good time to buy a home. Mortgage rates today are still lower than they have been on average for the past 50 years. In addition, numerous experts say that home prices are NOT going down.
Thus, the risk of waiting could be more of the same (just not as quickly): prices will inch higher, mortgage rates may continue to rise, and motivated buyers may find themselves priced out of the markets they desire.
So what's a new homebuyer to do?
Quick List of Steps
Here's a quick list of steps you should take to help you move closer to your home purchase. At the end of the list are several resources that review these tips in detail with added suggestions and resources.
1. Consider Your Budget and Home Needs
This has to be done together because they directly influence each other. If you need three bedrooms but need to stick within a budget, you may need to focus your search in a specific geographic location.
Consider your savings and how much cash you have available: for a down payment; to cover an appraisal gap, if necessary; to pay moving expenses; and to handle other new home expenses or improvements.
This may be where you realize you don't have enough equity to hit the housing market. This also is where you should explore some of the home buying assistance programs below that can add substantially to your bottom line at this stage.
2. Explore Mortgage Options
Actually SHOP for a mortgage. Within their limitations, lenders will compete to get your business. Learn about the rates, closing costs and terms, and determine which loan product will best meet your needs.
Shopping early for a mortgage also will help you determine exactly how much you can borrow based on your monthly budget to cover mortgage payments.
If you haven't bought a home in a long time, this is the new norm. Your real estate agent will need your Preapproval Letter before you submit a purchase offer on a home. A preapproval letter is an offer from a lender to loan you a specific amount under certain terms. It's not the same as the loan approval, which comes after you make an offer on a home.
4. Find Your Broker or Realtor
Connecting with a Broker or Realtor early also is important, because we can assist you with the previous steps. We will guide you through many of the steps and challenges you'll need to undertake toward your successful home purchase.
This webpage is full of information about what your Broker and Realtor can do for you and how they will work with you, so read on.
5. Start Shopping for Homes
At Personal Realty Advisers, your Broker will help you search for properties directly from the Multiple Listing Service (MLS). It's a good practice to target properties priced under what you're qualified to buy, so you have room to negotiate. Your Broker will work with you to identify clear property search criteria that will keep you within your budget.
You also can program your own Listing Alert to be notified when new properties meeting your criteria come to market.
6. Trust the Broker or Realtor
From here forward, your trusted Broker will guide you through the steps of making an offer, conducting due diligence on a home, closing, and much more. Also, check out the resources below for details about all the steps involved in the process.
Home Buying Resources
General Home Buying Guides
Resources to Help You
Because many resources are targeted to first-time homebuyers, it's important to understand what that means, because the definition is much broader than most realize, as shown in the list below.
First-Time Home Buyers
Anyone who had no ownership in a principal residence during the 3-year period prior to the new home purchase
A single parent or any displaced homemaker who has only owned with a former spouse while married
Anyone who has only owned a principal residence not permanently affixed to a permanent foundation (i.e., mobile home)
Anyone who owned a property that was not in compliance with state, local or model building codes…
With the above definition, many will qualify as a first-time homeowner, making them eligible for a myriad of homebuyer assistance programs. Keep in mind, that first-time buyers are already at a disadvantage because they are competing against current homeowners who have built up equity as their home value increased over the past couple of years. Those owners are coming to the purchase table with a nest egg already established.
But first-time buyers are beginning to make their mark. A third of all homebuyers last year were buying for the first time, according to the National Association of Realtors, and that number has risen each of the past 2 years.
While many purchase assistance programs target first-time buyers, there are many that do not. There is a gamut of options available. There are even programs targeted to later-in-life buyers – aging adults for their retirement years.
"Heroes"
Another special category of purchase assistance programs is targeted to "heroes": law enforcement officers, firefighters, educators, healthcare professionals, childcare employees, active military or veterans, and others. Newly launched in Florida is the Hometown Heroes Housing Program that will help people in more than 50 critical professions purchase their first home.
Down Payment Assistance
Many available programs offer down payment assistance – and there are many available. According to the online Down Payment Resource, Florida currently has 155 different programs for down payment assistance.
The graphic below shows the mix of assistance available nationwide; you can find most of these in your local communities or at the state level.
Infographic from Down Payment Resource
• USA.gov provides information on government programs that make it easier to purchase a home – some specific to rural residents, veterans, foreclosure properties, and more.
• Homebuyer.com describes first-time homebuyer grants and provides linkages to a variety of options.
• U.S. HUD offers a Good Neighbor Next Door program for buyers of eligible homes located in "revitalization areas."
• Playing off the Good Neighbor model are many similar programs for teachers, nurses, firefighters and officers.
Several other specialized programs are available by independent granting agencies:
• Homes for Heroes was established post 9/11 to give back to firefighters, EMS, law enforcement, military (active members, reserve and veterans), healthcare professionals, and teachers.
• EMS1.com is an online resource for the EMS community that provides connections to a myriad of homebuyer assistance programs.
Government Grants
Most large local governments receive pass-through grants that provide down payment assistance to income-eligible homebuyers. Eligible income levels can range up to 140% of area median income, so it's worth checking to see if you qualify. You can access links to all the Tampa Bay area programs on our Buyer information webpage.
Private lenders also have gotten into the homebuyer assistance movement by offering loans with special terms for borrowers in certain professions. When shopping for mortgages, remember to ask whether they have any such programs available.
Contact Us
Remember you don't have to go it alone. When you work with Personal Realty Adviser, you will work directly with Robert Coscia, the Broker and Owner. He is an extremely experienced agent—a 4th generation real estate investor and professional with over 30 years of experience working in the real estate industry.
Contact Robert directly to learn more about our brokerage and how it can be a good fit to help with your next real estate transaction: 727-317-7653 (SOLD) or email at info@PRAFlorida.com. We look forward to hearing from you.