This article series examines changes in households when our parents age and need additional support. This could mean changes to your parents' existing home or the purchase of a new home that will better meet their needs (covered in our Caring for Parents at Home article). It also could involve relocating parents to move into your home or otherwise blending your households in some way, which is the focus of this Part 2 article.
Not all of us are lucky enough to have a healthy relationship with our parents. Regardless, most of us feel a sense of responsibility toward them as our roles reverse and our parents become dependent on us. Choosing to provide that care in your home may be a beneficial option for everyone involved.
Practical Reasons for Multigenerational Homes
This trend is becoming more popular in recent years, as shown in the graph below. Today, one in every four Americans (26%) is living in a multigenerational home, according to a recent survey conducted by Generations United. This adds to decades-long research examining the trend by the Pew Research Center.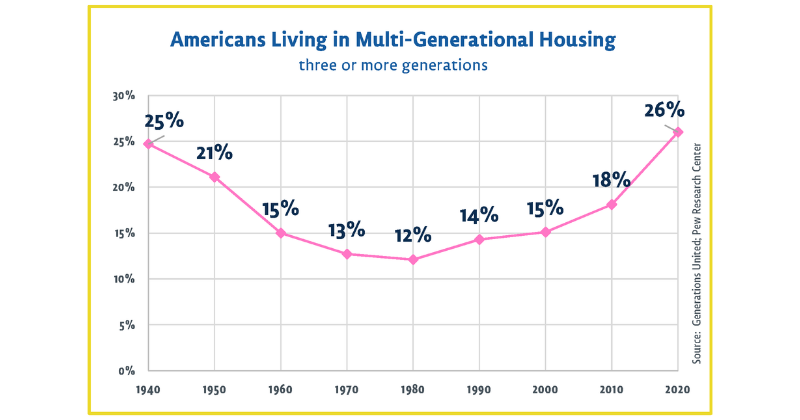 The recent survey also showed that many people who moved into multigenerational homes did so during COVID due to job loss or some other kind of challenge, but 72% of those people plan to continue living in a multigenerational home.
Regardless of moves motivated by COVID, across the board, 66 percent indicated economic climate was a factor in their family becoming a multigenerational household. Other factors are shown below, with the need for eldercare showing up second on the list.
66% Economic Climate
34% Need for eldercare
34% Childcare or Child Education Needs
30% Job Losses, Changes in Job Status or Underemployment (30%)
25% Healthcare Costs for One or More Family Members
23% Cultural and Family Expectations
Bottom line, if you take on this adventure, you are not alone. Thirty percent of adults with at least one parent aged 65 or older report that their aging parent(s) need their help in everyday self-care or in their finances. At any given point, 6 percent of adult children serve as caregivers, and 17 percent will take on this role at some point in their lives, according to a study from Boston College. The caregiving burden on adult children is likely to become a more significant concern as baby boomers move into their 80s.
Having Parents Move-In
A growing number of families are embracing the option to move parents into their homes, especially as an alternative to independent or assisted living facilities. Options engaged by blending households include moving a parent into a spare bedroom, creating an addition, or using an accessory dwelling unit located on the home's property.
In Part 1 of this series, we discussed the need to perform aging-accessible home assessments and home modifications that should be made to a parent's home if they are aging-in-place. This also is important for your own home if you move parents in. Everyday home features and objects all around us that seem safe could cause spills and injuries for aging parents:
changes in floor surfaces from tile to wood or carpet create potential dangers at doorways;
throw rugs and electrical cords can get caught in walkers; and
children's toys and even household pets can cause parents to stumble.
Also, with age comes increased chances of cataracts and increased problems seeing well under low light levels, so lighting throughout the home should be examined.
If your existing home cannot meet the needs of a blended household, having some renovation work done or shopping for a new home may be required. At Personal Realty Advisers, we often find buyers are preplanning for parents or other family members to join them in the future. The buyers may not need an accessory dwelling unit today, but then they consider: "Wouldn't that be fantastic for Mom if she needs to come live with us?"
Why not procure those extras early on? Whether they are needed now or not, the investment usually pays back when you decide to sell, and you will not be in a panic if/when you need it.
Blended Household Relationships
Even though living with elderly parents can be a challenge, it also can be a wonderful experience when done well. The benefits of strengthening inter-family relationships can be tremendous, and many parents can help with childcare and other household tasks.
Family expectations can vary widely, so it's important to ensure everyone is on the same page early on to prevent tension, disagreements, and even regrets. Consulting with an objective third party, such as a senior housing advisor or a geriatric care manager (also referred to as an Aging Life Care Professional), is an excellent step for helping everyone think through the whole concept.
Financial Challenges & Benefits
Multi-generational living arrangements also can present legal and financial challenges for you and your parent. One factor to consider carefully is your parent's eligibility for Medicaid. Selling or transferring a large asset can trigger a costly penalty period of disqualification for benefits. On the positive side, you may be eligible to get tax relief by claiming an elderly parent as a dependent or deducting medical expenses. Research the benefit requirements, guidelines, and tax implications thoroughly and discuss options with your attorney and CPA.
Mother-In-Law Suites / Accessory Dwelling Units
Another "move-in" option includes using a separate structure on your property outfitted for independent living – also called an accessory dwelling unit or mother-in-law suite.
In a recent AARP survey, nearly half of those polled said they would consider alternative living options, including an accessory dwelling unit (ADU). Sixty percent said they would consider living in an ADU, and those 50+ said they would consider making that move for the following reasons:
To be near someone but maintain their space (69 percent)
To have support doing daily activities (68 percent)
To save money (48 percent)
Accessory dwelling units can provide an excellent solution for aging adults who need some support but not the higher level of care provided in an assisted living facility. It is also an option that can be more favored by the hosting family (adult children) because it allows for some level of privacy for both parties.
Accessory dwelling units also are attractive because they can fill other needs such as office space, workout/yoga room, she-shed, or guest quarters. Depending on where you live and the corresponding zoning code, an ADU also could generate extra income through vacation rentals.
In the Tampa Bay area, according to the Tampa Bay Times, accessory dwelling units are rising in popularity in the wake of the pandemic. And for older adults, they're increasingly viewed as an alternative to a long-term care facility.
Dwellings vary widely depending on the 'resident's needs and the type of home and property available, but most include at least one bedroom and bathroom. Having a separate entrance and kitchen can take it to another level, but could also pose zoning code issues. Thus, before you get too far into planning or building your ADU, check with your local government office to find out if it is legal and determine what permits and building codes need to be met.
Zoning Codes: Accessory Dwelling Unit
If you purchase a home with an existing ADU that looks rental-ready, still check on local zoning codes because the previous owner may not have been aware of violations or may have been operating outside of allowable parameters. As your Realtor and Broker, Personal Realty Advisers will assist with this research to make sure you know what you are purchasing.
If you end up adding a mother-in-law suite to your existing home, you likely will find a good return on your investment. In the Tampa Bay area, they're coveted and in short supply, which adds to the value of your home significantly.
Caregiving
Caregiving is beyond the scope of this real estate-focused article, but it is important to address. Moving Mom or Dad into your home requires a great deal more than making home modifications. It can be a monumental and all-consuming undertaking. Taking on the responsibility for a parent means considering their emotional, mental and physical well-being, in addition to taking care of the well-being of everyone in your household.
Know that there is a myriad of resources available to help you when you transition to this new household arrangement. Several of these resources were introduced in Part 1 of this article series, Caring for Parents at Home.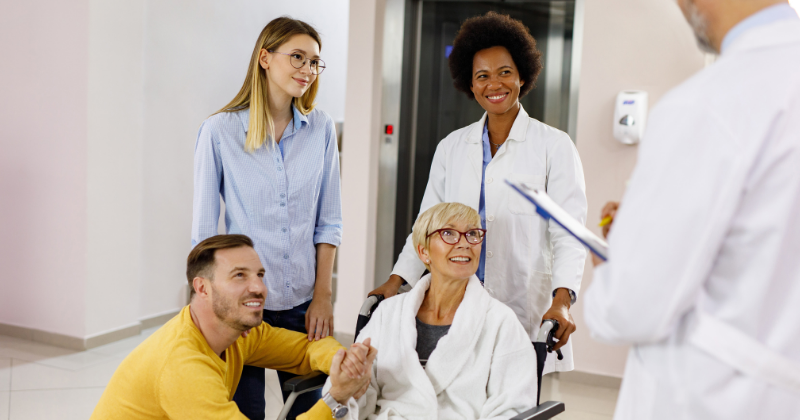 Whether you are caring for a family member now or in the near or distant future, at Personal Realty Advisers, we can help you search for the home you'll want to service and satisfy your multi-generational household. Contact us to explore options: 727-317-7653 (SOLD) or email: info@PersonalRealtyAdvisers.com. We look forward to helping you and your family.