"Aging in place" is a Top Priority for Aging Adults: Here's How to Plan for This in Real Estate
We are an aging population and the projected numbers are worth noting. The number of people over age 65 in the U.S. is projected to DOUBLE over the next 40 years.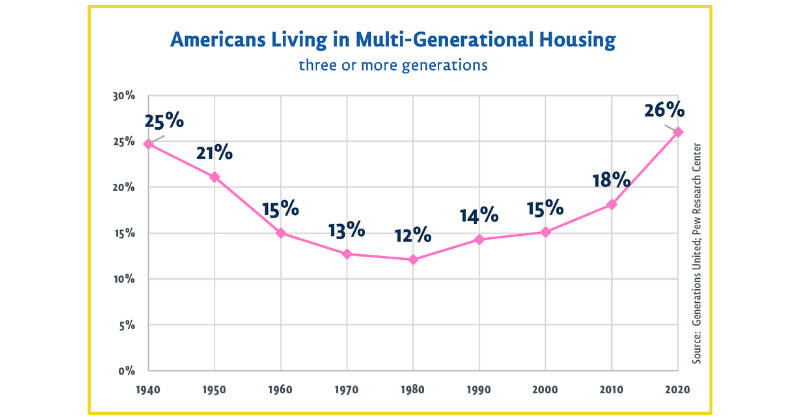 Some of those people will include our parents, other family, and ourselves, and it's inevitable they will need some level of supportive care that we hope can be provided in our home. How assistance gets provided is the big question many households grapple with: whether to provide care in the home, join households for easy care provision, or seek care in an external setting.
Aging in Place
For most of us, home is important. A recent Senior Care Outlook survey examined the caregiving preferences of both aging adults and their adult children. "Aging in place" was a first priority for aging adults (47%), followed by living with family (35%). Adult children prioritized senior living communities (35%) followed by "aging in place" (32%). The preferences between adult children and parents did not align, but there was shared agreement about aging in place as a desired option.
Many of us know we may be faced with some caregiving responsibilities and challenges in the future, and that will include determining where mom and/or dad should live and be cared for as they age. Some options include:
Making their existing home age-friendly through renovations.
Purchasing a new home for them that is more age-friendly.
Having them move in with you/your family, possibly into an accessory dwelling unit.
Moving them into some type of supportive care facility ranging from supportive independent living to full nursing care.
While supportive care is a broad topic, this article (and the second in this series) focus only on the housing-related options which we can address through our real estate decisions and investments.
Even staying closely focused on real estate, there is too much information for just one article. Therefore, this article will focus on "aging in place" and homes suitable to accomplish that. art 2 of this article will address the challenges involved with moving a parent into your home and the real estate implications that accompany that decision.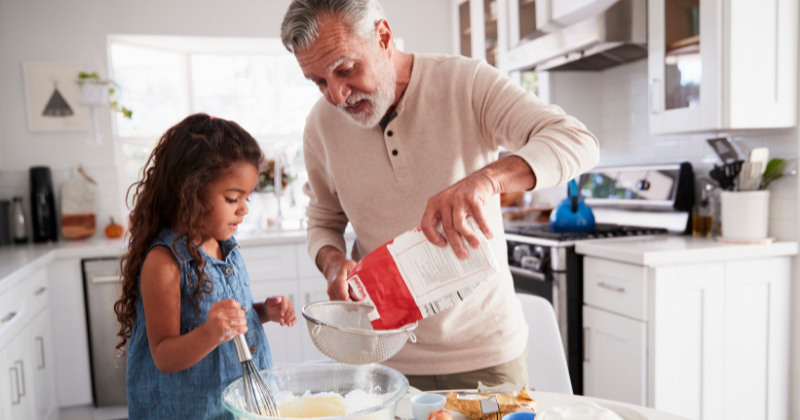 Aging-Ready Homes
As previously mentioned, numerous studies have shown that "aging in place" is the preferred option for aging adults. But most of our homes (and likely our parents' homes) are not structured or designed in a way to support this, nor would they even be safe for aging parents.
In Tampa Bay, many of us love our older homes, but older homes don't always meet the needs of older Americans, according to a new report from the U.S. Census Bureau. Only 10 percent of homes are aging-ready, according to a recent report by the National Institute on Aging.
In Pinellas and Hillsborough Counties last year (2021), 31 percent of homes sold were more than 50 years old. That's a lot of updating that needs to be done to help better care for our aging adults. Regardless of where your parents' home is located , it likely needs updating and changes to make it aging-friendly.
As able-bodied individuals, we don't always think about the types of modifications that aging adults need. Given that many adults are likely to remain in their homes as they age, it's important to assess obstacles in the home and to make needed modifications to prevent harm. The list of modifications is long, but a few common examples include:
Hallways wide enough to accommodate wheelchairs.
Showers with handrails and seats to safeguard against falls.
Bedrooms located on the first floor to avoid navigating staircases.
Bathrooms with at least one bathroom accessibility feature.
Entryways without steps.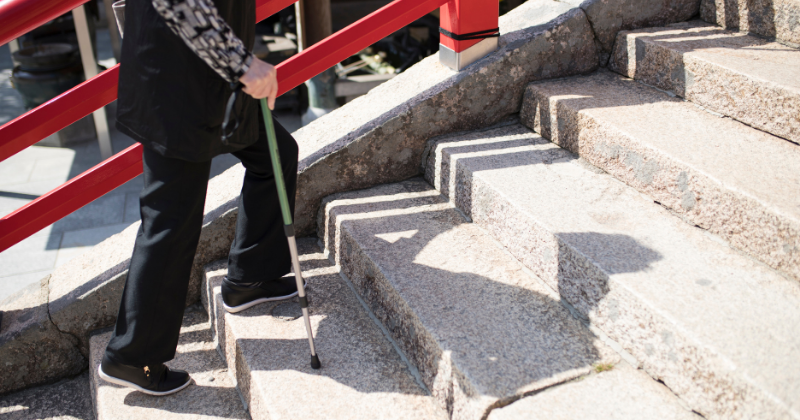 Aging-accessible home modifications don't have to cost a lot, but they can reduce the risk of injury and burden on caregivers. There are several great resources available for quick home assessments, such as the AARP HomeFit Guide, and the Aging-In-Place Design Checklist from the National Association of Home Builders.
For more extensive accommodation remodeling, seek out a contractor knowledgeable about aging-in-place home modifications and solutions to common barriers. Certified Aging-in-Place Specialists (CAPS) are certified by the National Association of Home Builders (NAHB). Most CAPS professionals are contractors or home remodelers, but they also include health professionals such as occupational therapists who are experts in physical mobility issues. You can search for CAPS homebuilders through the NAHB online directory.
Anyone who has renovated an old home knows it can be easier to start fresh – build or buy new, and that is another option to explore.
Purchase a New Home That's Aging-Friendly
You can help your parent(s) move out of their two-story craftsman-style bungalow into a safer one-story home with modern and accessible features. This can include purchasing an existing home that already has these features, or building a new home designed especially for your parents' needs and desires.
At Personal Realty Advisers, we have found that one-story homes are popular among our clientele, especially those planning for retirement or planning to add a parent to their household at some point. We always are available to help you find what you are looking for. To get started, here are some home search links that include homes that are more aging-friendly.
EXISTING HOMES: Tampa Bay Aging-Friendly Home Search
NEW HOMES: Tampa Bay Aging-Friendly Home Search
FIRST-FLOOR CONDOS: Sanibel-Captiva Home Search
CONDOS WITH ELEVATORS: Sanibel-Captiva Home Search
GROUND-LEVEL HOMES: Sanibel-Captiva Home Search
Your timeline will also influence your choice of home. As much as a new home may be desired, the timeframe for building a new home can be long, especially now due to supply and labor shortages. It may be necessary to buy an existing home that meets most of the major accessibility needs and then make needed improvements to fulfill the other needs in the home. Again, use the aging-in-place accessibility assessments available online and seek help from a qualified contractor or occupational therapist experienced in accessible design.
Why Wait?
Helping your parents update their home or find a new one shouldn't wait for those physical needs to arise. Plan and act ahead, so your parents can grow into their new surroundings and be comfortable using them by the time they need them.
Financial Considerations
Aging in place can be a cost-effective option, in lieu of costly assisted living or nursing home care. Even purchasing a home and combining it with in-home health care can be more affordable than a nursing home.
However, buying a house for or with your parents can involve a variety of personal, legal, and financial considerations. Under the right circumstances, it can be a beneficial option for everyone involved, but you should consult your CPA or attorney to discuss possible implications unique to your situation.
When you buy a home for parents to live in, it can still be considered an "owner-occupied" home, making interest rates attractively low. This also means the home doesn't have to be categorized as a second home or investment property, according to the rules set by Fanny May through the Family Opportunity Mortgage. Parents do not have to be on the loan for the home to qualify.
Remember also to consider taking advantage of the HECM for Purchase program that can take advantage of equity your parents already have built up in their home.
In other cases, you may wish to purchase the home as an investment property to be able to deduct certain expenses. If you take this approach, you may need to follow specific guidelines for investment properties, such as writing up a lease for your parents, and you should be aware of IRS guidelines regarding renting to family. Discuss all options with your accountant to decide what's best for your situation.
There also are financial implications to be aware of should you decide to move your parents into your home for long-term care, and some of those considerations will be covered in Part 2 of this article series.
Caregiving
Helping parents age in place requires far more than helping them take care of housing needs. In addition to physical accommodations and financial implications for you and them mentioned above, there also are issues related to family dynamics, home care and supportive services, and all-around quality of life. A few considerations are touched on here, but the impacts and options available are diverse and plentiful, and it can be overwhelming to process it all without help.
Caregiving is beyond the scope of this real estate-focused article, but it is important to address. Once you have plans solidified for your parents to live in a safe and satisfying environment, you will want to ensure they have the levels of supportive care they need.
It's important to have professional advice and guidance to help them thrive and maintain a quality life. Consulting with an objective third party, such as a senior housing advisor or a geriatric care manager (also referred to as an Aging Life Care Professional), is a great step to help everyone think through the transition and how to make it beneficial for everyone involved.
Know that there is a myriad of resources available to help you. If you don't know where to begin, you can start with 211. 211 is a free three-digit phone number set aside by the Federal Communications Commission for information about and referrals to local human service information. You can reach them 24 hours a day from any phone. You also can search for specific services through their online database.
There also are agencies and government offices dedicated to helping with services and support for aging adults and the people who take care of them:
When you're ready to explore home care services, there are several online directories you can reference, in addition to your parent's insurance provider directory.
SeniorCare.com (covers a range of care levels)
and others you can find online
If and when you're ready to help your parents modify their home or find a new home better suited to their aging needs, contact us at Personal Realty Advisers: 727-317-7653 (SOLD) or email: info@PersonalRealtyAdvisers.com. We specialize in working with aging adults and retirees to help them find their forever home. We look forward to helping you and your family.