So, you're ready to sell your home. Whether it's your first or your fifth sale, it can seem like a daunting task. At Personal Realty Advisers, we've helped hundreds of people like you sell their home over the past 30 years, and we offer these proven tips to make sure you get the most for your investment with the least amount of frustration or disappointment.
Step 1. Hire the Right Real Estate Agent
This might seem self-serving, but this really is the most important step in the process. Most people don't have the resources or the background to understand how to market a home aggressively, how best to price it, and how best to navigate the ins and outs of the sales process. Experienced real estate agents will guide you in all aspects of the sale–from prepping your home for sale to guiding you through negotiations, terms and closing.
Plus, they can remove any of the emotional aspects of selling by being the liaison between you and the prospective buyer. An experienced Realtor prequalifies potential buyers, conducts home tours, coordinates home inspections, and handles all the day-to-day communication between necessary vendors and buying parties. That way you're only involved when a solid offer is on the table.
Step 2. Prepare Your Home for Sale
An experienced real estate agent will help you prepare your home for an efficient sale. This includes:
Obtaining A Recent Property Survey and Elevation Certificate: This will be required by buyers, lenders and insurers. Having it done in advance allows your Realtor to have property and home details at their fingertips to help encourage buyers to make a quick, informed decision. Ultimately, having this information allows buyers to make an informed decision to present you with a strong offer more quickly, which ultimately provides a smoother closing experience.
Obtain A Professional Home Inspection: This helps to identify and correct problems that could stop or stall a sale. It also eliminates buyer requests for repairs and upgrades. Overall, it expedites the sales process and yields a higher net profit for you.
Make Minor Fixes: You want your home to make a strong first impression to buyers inside and out. Taking the time to make sure your home shows well help to stimulate buyer interest and reduce lowball offers. This might include making minor repairs, applying a new coat of paint and/or getting your home pressure washed. But remember, quick fixes are preferred over mammoth renovations. Over-upgrading often means you won't get your money back, so only do those updates that will help you get top dollar.
Step 3. Price Your Home Appropriately
Before you list your home, your Realtor should run a comparable report to gauge your home's worth in the current market. Pricing your home too high can slow down the process by discouraging quality offers. While pricing it too low can lead to a frenzy of low-ball offers and could ultimately result in not getting as much money for your home as you should.
In some cases, you might want to go the next step for pricing affirmation.
Have Your Home Appraised: This allows you to identify what your home will appraise for (which is important for buyers that will require a mortgage), and it helps prevent the #1 reason homes don't sell – which is being overpriced.
You should always allow a little wiggle room for negotiation, unless the market is extremely hot like it is today. In today's market, it's common for sellers to get offers above their asking price as supply outstrips demand. An experienced Realtor can guide you on just the right pricing strategy for your home and neighborhood.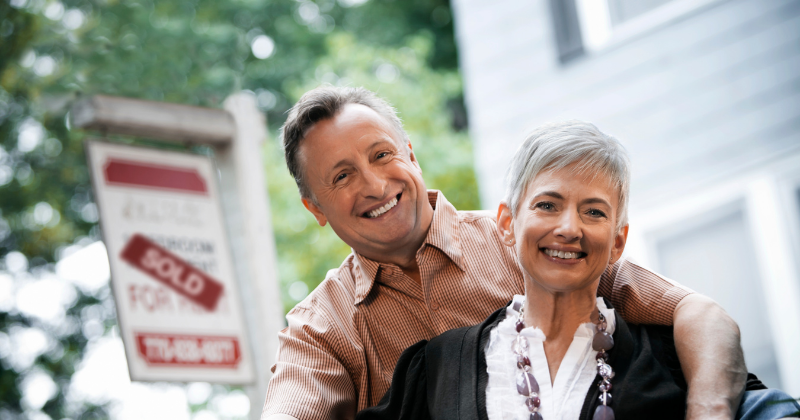 Step 4. Prepare Your Home for Showings
We often guide our clients on the subtleties of staging their home for sale so they'll get the most out of their investment. Staging is very important as it showcases your home's best features. It's important that closets appear about half full as storage is always a consideration for homebuyers. Plus, the kitchen should be clean and inviting, with cabinets that are organized and neat. You don't have to get rid of everything, just put it into storage until you move into your next home.
Maximize the light in your home by opening drapes and blinds, increasing the wattage in light fixtures, cutting away any landscaping that blocks light coming in the windows, removing window screens, and cleaning the windows. Bright and cheery is the key.
If you have dogs or cats, you should consider boarding them during open houses as not everyone is open to the smell of a litter box or being greeted by an excited dog.
It's also important to take the home out of your house. Personal items make it harder for a potential buyer to see themselves living there. This is a good time to put family portraits and other familial memorabilia into storage for a short time.
Remember, the first impression is the only one that matters.
Step 5. Get Your Paperwork in Order
Especially in today's market when homes can go under contract in a matter of hours rather than weeks, it's important to have all your important documents ready for closing. Plus, your buyers will likely want to see permits for past renovation work, home warranty documentation, land surveys, tax bill, utility bills, landscaping, and more.
At Personal Realty Advisers, we often advise and assist our home sellers to compile all this information in a showing notebook that you can you leave some place easily accessible when prospective buyers visit. Seeing all the facts in front of them allows them to make a decision more quickly. The notebook also is a great opportunity to showcase the neighborhood, local attractions, and what you love most about the home.
We Can Help You Navigate This Seller's Market
As helpful reminder, Personal Realty Advisers pioneered these 5 Easy Steps, summarized which is available for download on our website. Following these steps is good practice in any home sale, even though today's market makes it easier for sellers.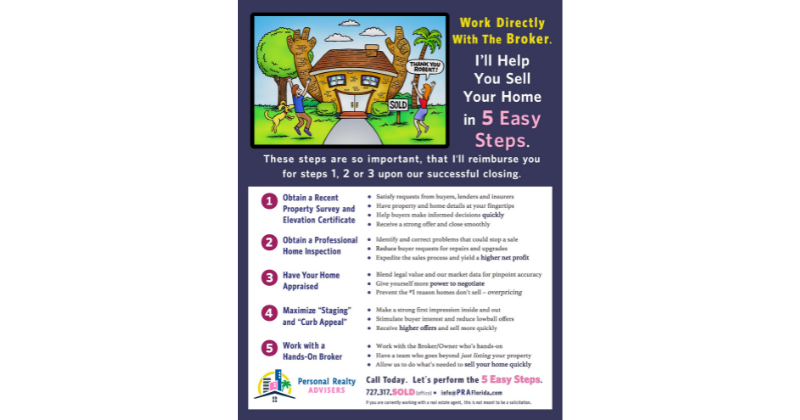 While demand is definitely more robust than supply, we can help you prepare for the sale and find you the perfect buyer at the right price quickly. To learn more, visit www.personalrealtyadvisers.com or give us a call at 727-317-SOLD (7653).