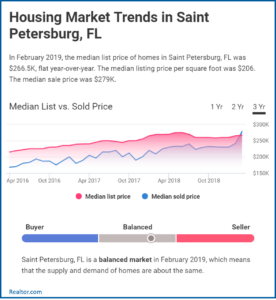 One of our clients has been eager to buy his first dream home near downtown St. Petersburg, but one of his hesitations that brings him back from the buying table is a fear of the "housing bubble." He's not alone: two-thirds of homeowners share his concern about a crash according to the Modern Homebuyer Survey by ValueInsured. Our client, like many others, has read or heard stories about a looming crash in the housing market, and he has let that fear put his dreams on hold.
Many economists and housing experts say we are far from getting ready for a crash; instead, we probably will see housing prices balance out and buyer and seller expectations will become more in line with one another. That's a good thing for most of us; it indicates a healthy real estate market that will be good long-term, according to Colin Robertson from The Truth About Mortgage.
To be an educated buyer, seller or investor you need to look beyond the headlines. Every community is different, and some communities are primed to fair well for a long haul. St. Petersburg and Tampa are two communities projected to be in that mix.
In fact, Tampa-St. Petersburg was ranked as one of the top 10 markets to watch in 2019, in the Urban Land Institute's Emerging Trends in Real Estate Report. According to report, investors find Tampa-St. Petersburg attractive for our demographic growth, friendly business climate and attractive cost structure.
Beyond that, the vibrancy of our downtowns and our status as a second-tier (18-hour) city is attractive to many.
Looking more closely at our local communities, we advise this is not the time to put your dreams on hold. Take advantage of this stable market and start looking for your dream home now. We are here to help.
Photo by Julie Laiymani on Unsplash